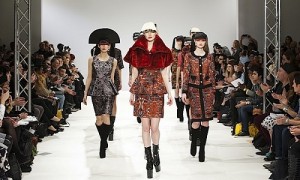 The complete London Fashion Week schedule has just been announced by the British Fashion Council and we couldn't be more excited.
There will be a full five days of womenswear action, from Friday 18 – to Tuesday 22 September, and new additions to the list include Maison Margiela, Zandra Rhodes, Alexander Lewis and Peter Jensen.
Our personal highlights are Versace's sister label Versus showing at LFW for the first time ever and Mulberry's former creative director Emma Hill unveiling her new accessories line, Hill & Friends.
The Topshop-sponsored NEWGEN initiative is also set to show the best of new design talent, including supporting Ashley Williams and Ryan Lo with their catwalk shows, Claire Barrow and Molly Goddard with presentations, and Marta Jakubowski and Sadie Williams with exhibitions.
In April it was announced that the BFC Showspace would be moving to Brewer Street car park in Soho where 16 of the 77 brands on the schedule have chosen to show.
The BFC Presentation Space will be situated at the Institute of Contemporary Arts in London SW1.
Join us on our Facebook page to be aware of the coming events, participate to competitions, share your experiences,… and fully Live the news! https://www.facebook.com/Appfabnews-755421747928344/?fref=ts