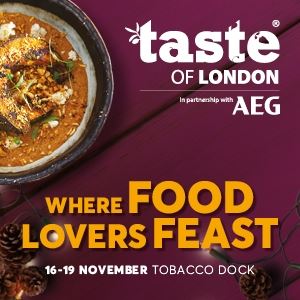 From 16th– 19th November 2017, the festive edition of the capital's finest culinary celebration, Taste of London, will return to the stunning Grade 1 listed Victorian splendour of Tobacco Dock. With so much to celebrate in London's thriving restaurant scene, the festival has been specially curated to showcase all that the capital has to offer as an exciting and innovative global culinary hot-spot – the best chefs, the best restaurants and best gourmet producers. Visitors will enjoy festive tipples and take part in hands-on masterclasses where they can learn how to create an impressive dish or shake up a cocktail or two ahead of the party season. Plus, there are more than 100 of the UK's finest gourmet producers to sample and shop, making Taste of London the perfect way to kick off the festive season in style! In addition the very first time, Taste of London is proud to announce that the largest cheese competition on the planet The World Cheese Awards 2017!
It will be taking place at this year's event. Celebrating its 30th anniversary, the awards will bring together more than 3,000 cheeses from around the globe, with 260 judges from 20 countries to crown the world's best cheese. It really is the ultimate food haven for all cheese lovers. Legendary street food traders turned The Cheese Bar will be serving dishes featuring the award-winning cheeses and the World Cheese Deli will be selling its award-winning selections for Christmas.
This year's Taste of London will shine a light on the talented chefs leading the charge in bolstering London's reputation as culinary capital of the world. Heroes of modern cuisine, including Ollie Dabbous (Henrietta), Jackson Boxer (Brunswick House), Lee Westcott (Typing Room), Sebby Holmes (Farang) and Sam Kamienko (Ellory) are all set to cook up a storm live on stage at the AEG Taste Theatre in association with Etihad Airways where they will wow the audience with what's hot right now, and unveil the trends of tomorrow. The theatre will be hosted by food journalist and Instagram star Rosie Birkett. Plus more exciting chefs will join the line-up at the Fire Pit, hosted by DJ BBQ, providing expert culinary tips to satisfy London's obsession with cooking with fire and smoke.