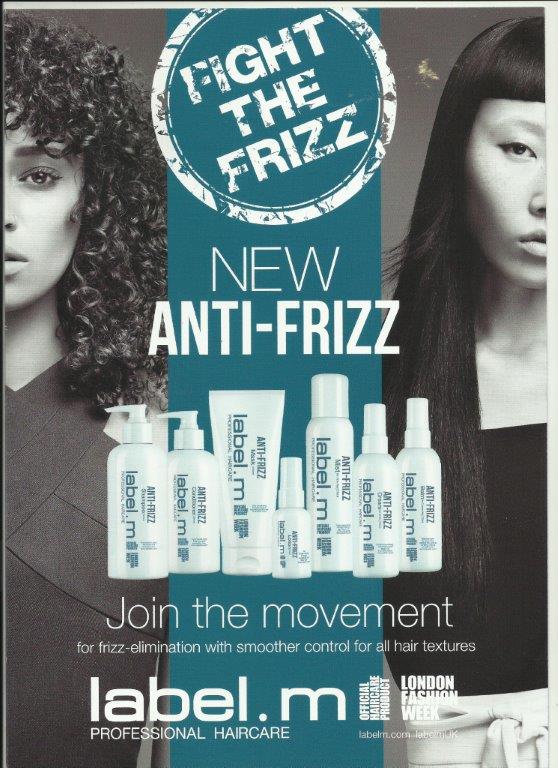 Be part of the revolution! Regain control of hair that's simply unruly, dry and unmanageable with the launch of label.m Anti-Frizz. This new, tailored, seven-piece system is dedicated to: managing curls and abolishing frizz, whilst optimising a smoother, straightening result all round. 
"For the first time, we have developed a complete range which works to fully identify the cause of frizz – regardless of hair texture. label.m Anti-Frizz is a new high-performance system that transforms with an effective solution to give the smoothest results when blow-drying; or straightening with longer-lasting results whilst retaining softness and manageability." – Sacha Mascolo- Tarbuck, Global Creative Director, label.m
Let's face it – how exactly do we perceive frizz? 
Most might say 'a bit like the Sahara with endlesss knots', but now it's time to say goodbye to the effects of damage and humidity and literally go head-to-head to #Fightthefrizz
Recognising hair diversity and embracing the notion of 'global hair textures', labal.m Anti-Frizz by its very definition a high-performance, solutions-led range with naturally derived eco-friendly formulations, to target various textures regardless of ethnicity.
Utilising label.m's signature prescriptive approach, the range is split into three categories: Fine, Normal and Coarse, with TWO exclusive complexes that combines active ingredients and integrates with the hair fibre to penetrate the various layers
Visit: https://labelm.com/uk/ for more information