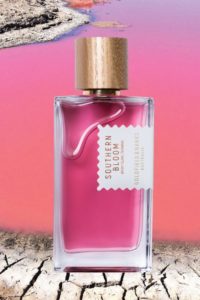 Goldfield & Banks is a luxurious and precious collection of gender-free fragrances featuring exceptional pure and rare Australian essences and oils unexplored in modern perfumery. Native seeds, gums, woods, flowers, lichen, roots, resins, leaves and fruits have been carefully harvested to create a new and intriguing Australian brand. One
that conjures the burning deserts, sparkling coastal vistas and deep, beautifully scented forests of this distant land. Goldfield & Banks is a tribute to the extraordinary beauty of Australia, to the golden fields of Sandalwood and to Joseph Banks, the first naturalist. A curious explorer and prodigious collector, Banks' collection of Australian plants, seeds, insects, and wildlife was the first to reveal the vast botanical richness of the continent to the European world.
New fragrance Southern Bloom celebrates the little-known 'Australian spring,' in September, with a focus on the enchanting native flower, Brown Boronia. Brown Boronia is the only Boronia species from which an absolute has been collected. The absolute is distinctive and one of the most expensive perfume materials in the world. The rare flowering plant, native to Australia, blooms only for a few short weeks in springtime – usually late September.