Guided by a passion for perfume, John-Paul Welton works in Grasse, in southern France, on all the fragrances. He believes that unparalleled expertise is vital to ensure products of the finest quality and for this reason, he chose to create all his collections in France. John-Paul Welton is delighted to present the latest collection of Eau de Parfum, which is an invitation to an olfactory journey.
These fragrances are inspired by his travels, the emotions felt at a specific moment, the beauty of a place : Italy, Egypt, Middle-East, Spain…. This work is very intimate.
John-Paul Welton is sharing with you the extracts of his travel diaries, which are the creative impulse to work on each perfume.
When reading those diaries, the French artist Ccil, got the inspiration to illustrate those journeys.
COLLECTION ONYX – SPECIAL EDITION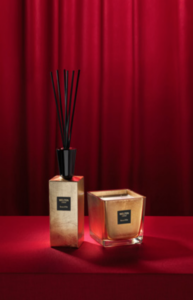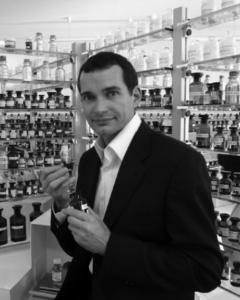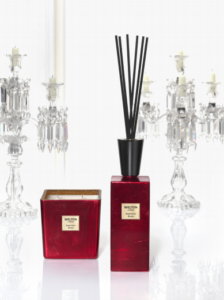 This new fragrance is dressed in gold and brings sunshine into your interior. Pure "Soleil d'Or" meaning Golden Sun interprets the freshness of dawn, introducing the sunlight which intensity is gradually growing. Luminous, the slightly spicy white tea mingles to the warmth of jasmine, blackcurrant, cherry wood, reveals subtle bitter orange tree notes resting on soft musky tones combined with sandalwood and cashmere wood. Bold freshness combined with powdery musky notes for a beautiful day ! The exceptional handmade know-how is in the spotlight : gilded with gold leaves, this beautiful home fragrance diffuser bottle XL contains 1 litre of fragrance. The large candle is gilded with gold leaves on the inner part of the glass vase keeping the edges clear for a beautiful visual effect. This matte golden edition will bring warmth to your interior.
Let's travel and follow the Spice Route to discover a delicate blend of ginger, cardamom combined with incense and coffee flowers. The journey brings us to Venice, a travel back in time to the XV th century, struck by the splendor. This beauty and spirit is embodied by the gold leaves and deep red lacquer of the containers. The exceptional handmade know-how is in the spotlight : gilded with gold leaves, those beautiful containers are painted with a deep red lacquer. This decor is carefully hand-crafted to make the Special Edition Sumptuous Spices!