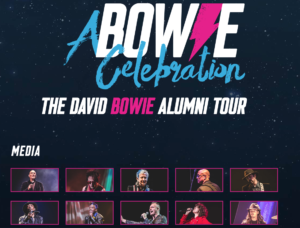 Join key alumni musicians of David Bowie's bands from across the decades, anchored by his longest standing member Mike Garson along with other amazing Bowie band alumni including Earl Slick,Gerry Leonard, Carmine Rojas and Mark Plati.  We're gearing up to head back on the road with A BOWIE CELEBRATION: The David Bowie Alumni Tour featuring an unforgettable and critically acclaimed evening of Bowie songs with world-class vocalists and an ever rotating mix of hits and deep cuts. As Westworld's Evan Rachel Wood recently proclaimed on The Tonight Show Starring Jimmy Fallon after having been guest featured on a number of shows on tour with the alumni band, "It's not a cover band. It's the actual band. It's as close as you're going to get to Bowie."
Mike Garson was was David Bowie's longest and most frequent band member. He was featured on more than 20 Bowie albums, including his much talked about masterly solo on the Aladdin Sane track. Mike performed with David on both his first and last concerts in the United States as well as 1,000 concerts around the globe in between.
Earl Slick began his collaboration with David Bowie in 1974 on the Diamond Dogs tour and continued with Bowie through his David Live, Young Americans and Station to Station albums featuring the smash hit singles Fame and Golden Years. Slick rejoined David's band in 2000 for the Reality album and tour as well as his The Next Day album.
Charlie Sexton became friends with David Bowie while recording his Never Let Me Down album. Sexton sat in with Bowie on the Glass Spider tour and was his special guest performer for the filming of the shows in Sydney. Sexton has also toured and recorded with Bob Dylan, contributed a track on the Thelma & Louise soundtrack and appeared in the Best Motion Picture Oscar winning movie Boyhood, and may be best known for his solo hit "Beat's So Lonely" and his work with the band Arc Angels.