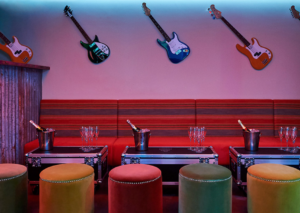 Soho Residence, the premier bar, club and lounge space in London's West End has undergone a full and fantastic £1m restoration and is open for business.
This iconic Soho venue has been utterly transformed with a £1m restoration and people have already been flocking through its doors in the final weeks of the year. Spread across three floors of the 126 year old Roundhouse building, the ritzy space offers a Botanical Bar with art deco style, late night party space Festival Club and the decadent Gin Parlour, all offering a sense of elegance, style and grace with snug sofas and huge windows, rich fabrics and beautiful plants. In addition, first class service and a mouthwatering selection of craft beers and cocktails offer you a taste of the VIP high life. Soho Residence is already earning a reputation as the premier place to visit for a night of grown up fun.
With a capacity of 350 and spread across three floors at 83-85 Wardour Street, the magnificentSoho Residence is the most exciting and anticipated new venue Soho has seen in decades. Erected in 1892, the Roundhouse building itself has previously existed as blues and skiffle clubs, welcoming celebrated performers from around the world. Its latest and greatest incarnation as Soho Residence will continue this rich tradition by offering the ultimate night out experience in a venue of unrivalled elegance and grace.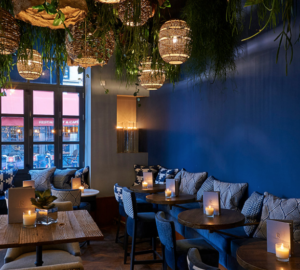 This uncompromisingly restored space, formerly known as The O Bar, offers an opulent gin parlour for the discerning drinker, a botanical cocktail bar with world class service, refined cocktails and a warm, relaxed atmosphere throughout. Housed in Soho's most famous and historic landmark, and with DJs providing a classy soundtrack, this chic and sleek new venue will be open until 3am Monday to Saturday, and 12:30am on Sundays.
The ritzy ground floor Botanical Bar of Soho Residence boasts a hint of art deco style with enormous windows allowing light to flood in, a fresh botanical feel, hanging plants and banquette seating, plus plump cushions and a plush Soho vibe, all complemented by professional service and contemporary cocktails that dazzle with their fun, flair and flavour.
The basement Festival Club is a place to be mischievous with high-end lighting, big screen imaging and a selection of craft beers and refined cocktails that will welcome the capital's glitterati for nights of grown-up fun and late night partying.
Lastly, the first floor Gin Parlour has high ceilings and tall windows which direct your gaze down to the bustling streets of Soho below as well as snug sofas and sumptuous fabrics. An extensive selection of the world's finest gins, exquisitely executed classic gin cocktails and modern gin pairings are available all in a cosmopolitan and carefully curated space designed to make you feel like a million dollars.
Soho Residence is the most adventurous and exciting new development to hit the West End in many years and this artfully realised vision of a venue is set to become the most talked about and must visit destination in London.
Gin Parlour and the Festival Club are both available for private hire. Email info@sohoresidence.co.uk or call 0207 434 9413