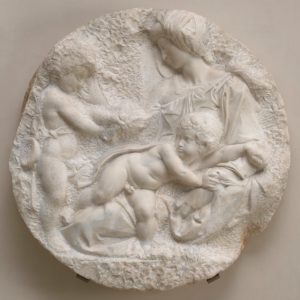 This exhibition brings together two artists – born centuries apart – who explore the same universal themes with works of transcendent beauty and raw emotional power.
In contrast to the scale and grandeur of his frescoes and sculptures, Michelangelo's exquisite drawings take us closer to the emotional core of his work. Finished works in their own right, they were created as gifts and expressions of love, or as private and meditative reflections on his own mortality.
In 2006, pioneering video artist Bill Viola saw the finest of a collection of these drawings at Windsor Castle, and was astonished by the Renaissance master's expressive use of the body to convey emotional and spiritual states. Although created in a radically different medium, Viola's own works also grapple with life's fundamental questions, asking us to consider the thresholds between birth, life and death. Both artists harness the symbolic power of sacred art, and both show us physical extremes and moments of transcendence.
This exhibition explores the affinities between Bill Viola and Michelangelo, and is conceived as an immersive journey through the cycle of life. You'll see a selection of Michelangelo's most poignant works, including those from Windsor such as his drawings of the Crucifixion, as well as Michelangelo's only marble sculpture in the UK, the Virgin and Child with the Infant St John (the 'Taddei Tondo'). From Viola, we feature 12 major installations spanning his entire career, including the extraordinary Tristan's Ascension (The Sound of a Mountain Under a Waterfall), a five-metre-high projection depicting the ascent of the soul after death.