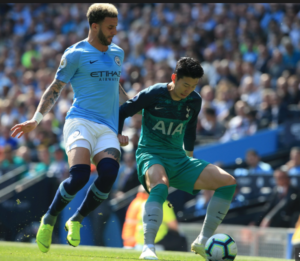 The epic game between Manchester City and Tottenham Hotspur last week highlighted the strength of the English Premier League and the global appeal of Premier League football.
In a roller coaster game of attacking football four goals were scored in the first 21 minutes.The new off field VAR system introduced to help referees come to the correct decision ruled for Llorente's crucial third goal for Spurs and against Sterlings stoppage time "winner" for City.
With the score line 4 – 3 on the night and Spurs goal from the previous game making the score 4 – 4 over the two legs Spurs emotionally progressed to the semi finals on the away goals rule.
Spurs will play Ajax,top of the Dutch league in the semi final.Liverpool who demolished Porto in the other quarter final will play Barcelona who put out Manchester United in their quarter final.
Of the last eight teams in this year's Champions League four Premier League teams were through – Spurs, Liverpool and the two Manchester clubs, City and United.
If Liverpool and Spurs beat their semi final opponents they will play each other in the final in May.
In the other European competition,the Europa League, both Chelsea and Arsenal are through to the semis.
Dare we hope that both European finals will be contested by Premier League clubs?
Website: https://www.premierleague.com
Richard Henry