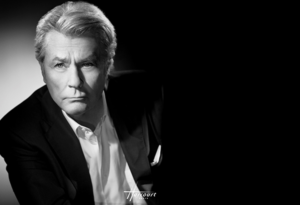 He entirely belongs to cinema and its finest works and legends: in 2019, the Festival de Cannes has decided to award Alain Delon with an Honorary Palme d'or to pay tribute to his wonderful presence in the history of film.
After Jeanne Moreau, Woody Allen, Bernardo Bertolucci, Jane Fonda, Clint Eastwood, Jean-Paul Belmondo, Manoel de Oliveira, Agnès Varda and Jean-Pierre Léaud, the Festival de Cannes is proud and delighted that the legendary actor who starred in Luchino Visconti's The Leopard (Palme d'or 1963) has accepted this honour from the international community.
We're talking about a giant, a living legend and a global icon. More than 80 films, countless masterpieces and superlatives are testament to the artistic reach and international aura. Many of his films have since become classics. Exploring his filmography is like (re)living some of contemporary cinema's finest hours. Directed by the biggest names in filmmaking (Antonioni, Visconti, Melville, Losey, Godard, Deray…), he has starred alongside the greatest movie stars (Gabin, Lancaster, Montand, Sharif, Ventura) and embraced on screen the very best actresses (Mireille Darc, Romy Schneider, Claudia Cardinale, Ursula Andress, Monica Vitti). Combining artistic excellence with commercial success, he's a box office champion (Borsalino, Le Cercle rouge) who has never strayed far from independent cinema.
His connection with the Festival de Cannes dates back to the start of his career. On 13 May 1961, his first walk up the red carpet steps for The Joy of Living, presented in the Official Selection, was met with great excitement as photographers and journalists mingled with hundreds of admirers. The crowd was no less enthusiastic 30 years later following his spectacular arrival by helicopter and boat to present New Wave.
Alain Delon has often attended Cannes. He has presented the Palme d'or, attended the Festival 60th anniversary ceremonies and come to Cannes Classics to support restorations of some of his favourite films. In recent years, he has also been seen in theatre with his daughter Anouchka. Alain Delon has now said his acting days are over. But he has one regret. "There is one thing I've missed out on that will always haunt me: I would have liked to have been directed by a woman before I die."
The 72nd International Film Festival will run from 14 to 25 May 2019. The Jury will be chaired by Alejandro González Inárritu. Jim Jarmusch's The Dead Don't Die will open the Competition.
The 2019 Official Selection will be announced on Thursday 18 April from 11am, live on YouTube, Dailymotion, Facebook, Twitter and www.festival-cannes.com