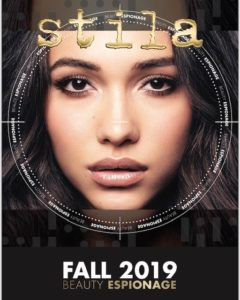 The home of Stila Cosmetics in the UK. For over 20 years, Stila has been inspiring fashion week make-up and creating artistry-proven products that perform as promised, lasting from morning to moonlight, and that take a woman anywhere she dreams to go. New Beauty Espionage Collection:
1. Magnum XXX™ Mascara Mega-volume!
This mega-volume-building mascara is the optimized combination of formula and brush. Surprisingly lightweight, the creamy, non-clumping formula contains Curl Flex, a unique styling resin with exceptional curl retention and lash hold. It leaves lashes shiny and thick, full-bodied, yet flexible. It also contains 1% Diamond Powder for dramatic black color intensity and lash conditioning. The fibers of the super-size, blossom-shaped brush are carved in a statuesque, curved silhouette that channels just the right amount of formula for a lush, rich coat every time you apply.