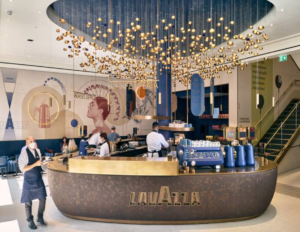 With the inauguration of Lavazza's first Flagship store outside of Italy, the brand brings an immersive coffee experience to London!The store spans across two floors of luxury retail space, joining premium brands including Liberty London, Burberry and Ferrari on this coveted central London strip to bring a taste of Italian style to the capital. The store aims to bring an immersive coffee experience to London for the first time, blending the sophistication of traditional Italian espresso with UK coffee culture.
Visitors to Lavazza's Flagship store will be treated to:
Sample authentic Italian coffee recipes alongside exquisitely made patisserie for an elevated coffee moment
A stylish interior, the 'Caffetteria' has been designed by celebrated Italian architect, Carlo Ratti, which is crowned with a stunning, custom chandelier made of 700 resin coffee beans
Delicious Coffeetails menu, including a selection of sophisticated coffee cocktails such as Coffee Spritz or Bittersweet Polma – paired with bar snacks for the ultimate Italian aperitivo
Get an exclusive, first look at Lavazza's newest range, of single origin, specialty coffees, 1895, which combine high-quality beans from independent, sustainable plantations with the highest technology in coffee processing.
Enjoy a Top Gastronomy restaurant experience, with a menu curated by Italian Michelin Star chef,Federico Zanasi, head of Condividere