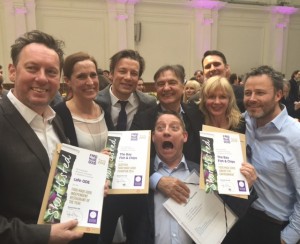 It is nowadays quite difficult to know the origins of the products that we are buying at the shop in order to prepare our meals and it is from far a harder level to have access to these information when we go to restaurants.
Indeed, I am not sure that you would be ready to question the waitress for 10 minutes before deciding to order or not.
But do not worry me neither, and that is why I will tell you about an organization paying special attention to what we eat and its impact on the environment in every kind of establishment serving food: SRA (sustainable restaurant association).
The SRA is a non-profit organization launched in 2010 counting now more than 5500 venues and eateries all over the UK and having the famous chef Raymond Blanc as president.
This association aim at helping businesses concerned about enhancing their sustainability and at enabling them to improve in 3 different main fields (each divided in 4 or 5 key sustainability areas): sourcing, society and environment.

How it works:
The restaurants/activities which would like to take part in will firstly be submitted to a survey and marked on each of the total 14 keys focus area in order to have an overview of their performances.
This first step being done, it will receive comprehensive and tailored recommendations for improvement and will work with its account manager to develop a custom action plan, based on the opportunity areas identified in its rating which will help record and track improvements year on year.
In addition to that, members of the association have access to a large range of help tools such as: a library of useful documents, reductions for trainings,…
The rating
Once a restaurant is registered, it will receive the "Food Made Good" label which could be upgraded with up to 3 stars, each star being related to the global score of its capacity to deal with the main 3 fields and 14 keys area (respectively 50%, 60%, 70% or more).
The awards
Nominees for the Food Made Good Awards are all audited by the SRA's Food Made Good sustainability programme in the last 12 months and those with the highest scores in respective areas are honored with an award.
We are happy to congratulate the 2016 winners:
Poco, Daylesford, River Cottage, Belmond Le Manoir aux Quat'Saisons, Geronimo Inns, The Savoy, Wahaca and Feng Sushi.
Tips :
If you want to join the SRA and have an idea of what you could be asked, try the free demo rating  http://survey.thesra.org/demo
Join us on our Facebook page to be aware of the coming events, participate to competitions, share your experiences,… and fully Live the news! https://www.facebook.com/Appfabnews-755421747928344/?fref=ts