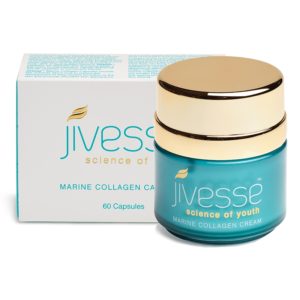 Jivesse has created a brand new range of products which are focused on a unique combination of natural ingredients aiming at hydrating your skin and increasing your production of collagen in order to enable you to keep a skin looking youthful and protected against the key signs of aging.
The range is composed of 2 distinct products, the cream and the capsules, which can be used separately or even as complement to each other if you wish to obtain the best result possible.
Some keys ingredients:
Peptan (type 1 collagen that boosts collagen production).
Argireline (cosmetic alternative to Botox).
Liftonin Express (an instant tightening and lifting actively).
The cream:
This triple complex marine collagen cream fortified with antioxidant (such as Vitamin C) and humectant is available in airless container of 50ml which provides you a 1 month use with 2 daily applications.
+: The cream smells really good and is instantly absorb into skin. Also notice that it is completely free from artificial colors/preservatives.
The capsules:
These marine collagen capsules are available in a 60 capsules pack and provides you 1 month of treatment. You simply have to add 1 capsule to 2 of your meals.
These products are available in John Bell & Croyden, the famous pharmacy recognized for delivering excellence and innovation. This partnership provides to the Jivesse brand an additional proof of quality.
Indeed, the Jivesse Marine Collagen Cream has been formed using over a decade's experience and clinical knowledge in the development and manufacture of effective skin management products for dermatology specialists, and as ice on the cake, are not tested on animals and are manufactured in UK.
tips:
if you want to receive a free sample of the cream, require at this  address  https://www.jivesse.com/pages/requestasample.aspx
There is nowadays a promotion on the duo"cream-capsules", have a look!
Join now our Facebook page to be aware of the coming events, participate to competitions,… and fully Live the news! https://www.facebook.com/Appfabnews-755421747928344/?fref=ts