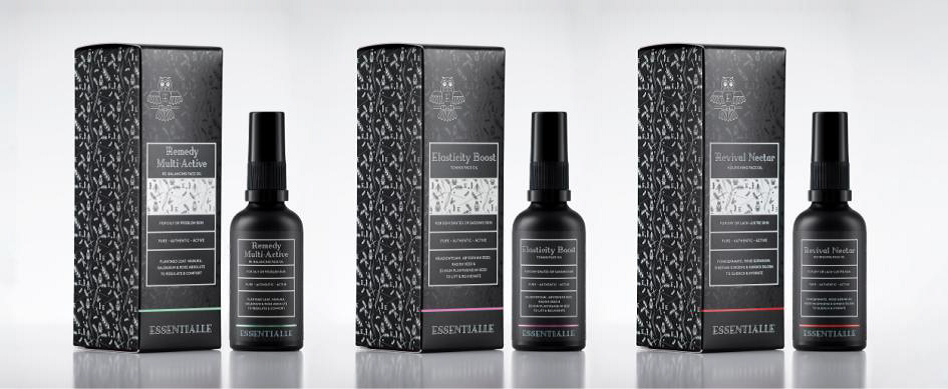 Essentialle is an all-natural, high performance skincare range, masterfully curated to repair, nourish and hydrate the skin. Inspired by the abundance of medicinal herbs and plants of Northern Russia, containing only the highest quality plant oils and actives sourced from nature's finest – with a proven record of safety and efficacy – this luxury, results driven range has been designed to address all skin concerns and improve its overall health, texture and tone. All Exquisite aromatic oils, rare and sometimes surprising plant extracts and sophisticated actives are meticulously blended, working synergistically to activate the skin and elevate the beauty ritual. The collection is launching with three vegan oils that address various skin ailments:
REMEDY MULTI-ACTIVE RE-BALANCING FACE OIL: For oily or problem skin (£62 / 50ml)
This 100% natural, dermatologically tested lightly moisturising oil offers a gentle cocoon that purifies, calms and corrects, to reveal a clear, fresh and healthy complexion.
Ingredients: Plantago leaf extract, manuka & lavender oils, galbanum oil, rose absolute extract, chamomile flower oil, apricot oil, calendula extract and coconut oil.
REVIVAL NECTAR NOURISHING FACE OIL: For dry or lack-lustre skin (£70 / 50ml)
This 100% natural restorative and beautifully aromatic oil delivers a penetrating treatment that rehydrates and plumps, to reveal a rejuvenated, radiant and youthful complexion.
Ingredients: Pomegranate seed oil, rose geranium oil, Siberian ginseng extract, gingko biloba extract, rosehip fruit oil, vitamin E, avocado oil, linden blossom flower extract, patchouli leaf oil and mandarin peel oil.
ELASTICITY BOOST TONING FACE OIL: For dehydrated or sagging skin (£65 / 50ml)
This 100% natural ultra-conditioning oil is packed with a powerhouse of actives that hydrate, strengthen and repair, to reveal a defined, plumped and firm complexion. It's also perfect for reducing stretch marks and uneven skin tone.
Ingredients: Meadowfoam seed oil, Abyssinian seed oil, radish seed oil, echium plantagineum seed oil, shea butter, may chang oil, olive oil, safflower seed oil, sweet orange oil and camelina seed oil.
Available from 16 October 2017 online at www.essentialle.com.
@EssentialleSkin / #EssentialleMoments
All products are free from parabens, mineral oils, microbeads, silicones, sulphates, artificial colours and fragrances.
Made with 100% natural ingredients and suitable for vegans.
Website: