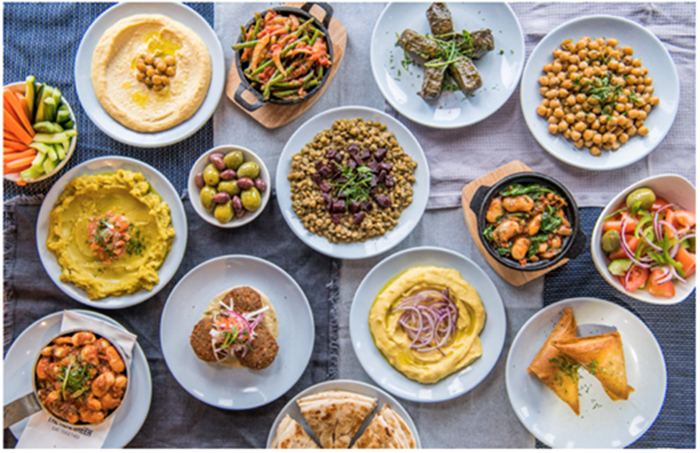 March 2018: The Real Greek announces the launch of its Vegan Menu – a first for the restaurants that specialise in delicious fresh Greek food. Created in collaboration with celebrated Greek cook Tonia Buxton, the thirty-item vegan menu pays homage to Greece's rich heritage of vegan cooking and the fresh ingredients found in Greek and Cypriot Cuisine.
The thirty dishes on the menu include Jackfruit Stifado (Greek stew made with delicious slow-cooked jackfruit, hearty button mushrooms, shallots and aniseed), and the Vegan Moussaka (layered potato, seasoned courgette, aubergine and slow-cooked jack fruit mix, cooked with cinnamon for a deep delicious flavour).
 These recipe developments follow months of mouth-watering research. The Real Greek chefs toured Greece and the UK, speaking to customers about meat-free and dairy-free food, and sampling vegan dishes. The Real Greek present this menu to fulfil the growing demand from customers for a wider choice of flavourful vegan options. This Vegan Menu will give these customers a genuine vegan experience, alongside the restaurant's main menu.
 The Real Greek also has a selection of cold vegan meze on the main menu, such as the tangy Beetroot and Lentil Salad, Spicy Walnut and Roasted Red Pepper Dip, and the restaurant's staple home blended Houmous and Green Pea Fava topped with red onions and tomato.
 The Real Greek was the first restaurant to include calorie information for each of its dishes on the menu in 2010, The Real Greek's new Vegan Menu will also list the exact calorie per dish for diners. 
 Christos Karatzenis, Operations Director of The Real Greek, said: "While The Real Greek has always been proud to have a variety of vegan-friendly options on its menu, creating a special dedicated menu was a natural step for us – veganism is ingrained in Grecian history and culture, with the first vegan diet created by philosopher Pythagoras in 550 BCE – it was more than a theory! We're excited to launch this menu that is a result of listening to our customers, and leaning on tradition, to craft what we believe is one of the most varied and flavoursome vegan menus you'll find in the UK today."
Check out The Real Greek at: http://www.therealgreek.com/