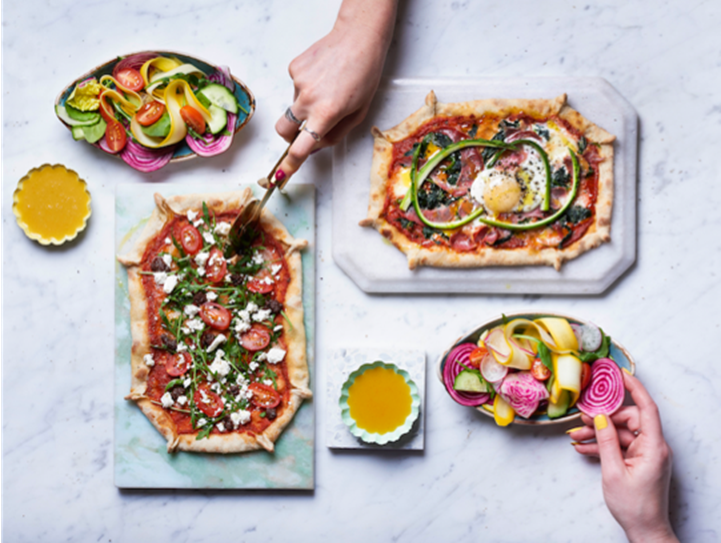 March 2018: ASK Italian, one of the UK's leading restaurant brands, has launched its new Spring menu filled with colourful and tasty dishes to brighten up your day!
 Say hello to ASK Italian's new range of lighter pizzas; with three to choose from, their favourite Prima pizza toppings are now served on the new Prima Light base and accompanied by a colourful, veggie-packed rainbow salad. Who said healthier choices have to be boring?
 So lighten up your lunch or dinner with a choice of Light Coppa Ham & Egg, Light Pollo Piccante con Pancetta, or Light Caprina with soft goat's cheese for our veggie lovers – at under 550 calories (kcal)* you can now enjoy less dough, and more rainbow!
 Italian foodie fans can tuck into a bowl of ASK Italian's new Spring Special Pea and Prosciutto Risotto. This vibrant pea and asparagus risotto is topped with crispy smoked prosciutto and baby watercress, and packs in all the flavour.
Known for their show stopping desserts, make sure to leave room for ASK's new sweet treats! Opt for a slice of sunshine with their zesty Lemon Tart served with a blood orange drizzle and vanilla gelato, or give into your chocolate temptations with the White Chocolate Swirl, a smooth white chocolate and almond mousse served on crushed pistachio nuts and strawberries with a cascading blood orange sauce – go on, give it a swirl!
 And because they love to celebrate every mealtime like the Italians do, ASK Italian has topped up their drinks menu with the classic Negroni cocktail joining their popular tipples, such as the Tropical Mojito and Elderflower G&T, and a growing range of craft beers and ciders. We'll toast to that!
 *Prima Light are below 550kcal which is approximately 2301Kj.
ASK Italian's Spring menu is now available in all restaurants. For more information please visit: www.askitalian.co.uk
About ASK Italian
ASK Italian is one of the UK's leading casual dining restaurant brands, with over 110 restaurants throughout the country, driven by a passion for seeking out the best of Italian food and culture. They are devoted to creating an easy going atmosphere, so you can 'Eat like an Italian' – connecting with people around you and enjoying mealtimes as much as the Italians do. With the help of expert friend, celebrated chef Theo Randall, ASK Italian has been discovering the best of Italian food and drink, reflected in the menus and 100% Italian wine list. In 2017, ASK Italian won best menu in the Mediterranean Casual Dining category at the restaurant MIDAS awards, and was named 'Italian Restaurant of the Year' in the 2017 Pizza and Pasta Association Awards.