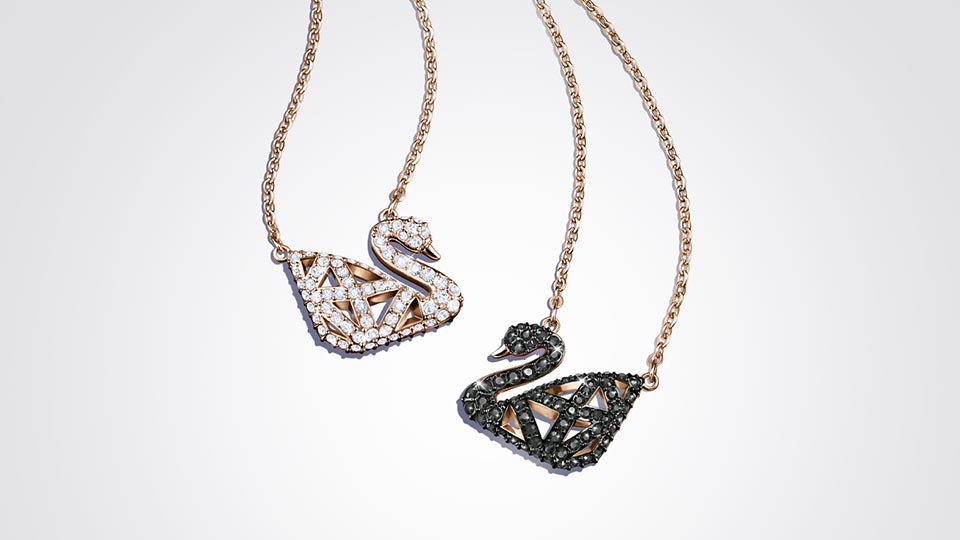 ATELIER SWAROVSKI UNVEILS AUTUMN/WINTER 2018 COLLECTIONS WITH PETER PILOTTO, MARY KATRANTZOU, AND TABITHA SIMMONS ALONGSIDE NEW CORE COLLECTIONS
London, February 2018 – The Atelier Swarovski Autumn/Winter 2018 collections include an evolution of the Spring/Summer 2018 lines with Peter Pilotto and Mary Katrantzou, and new collections with Anna Dello Russo and Tabitha Simmons, alongside the latest additions to the Core Collection.
Atelier Swarovski by Peter Pilotto 'Arbol' Collection
The unique 'Arbol' collection by Peter Pilotto explores the creative potential of crystal in a series of sculptural statement pieces that can be worn from day to night. The inventive designs inspired by the architecture of nature are designed to be flexible and wearable. The 11-piece collection is available in a new colorway for Autumn/Winter 2018: pink and golden shade crystals set in rose gold plating. New styles include an open choker and open cuff, a sautoir necklace and a small cocktail ring.
Peter Pilotto and Christopher de Vos commented: "The key element that we wanted to bring into the collaboration was the vibrancy and the dynamic graphics of our collections and to translate that into a strong yet delicate accessory. We always enjoy working with Swarovski, after all the collaborations we have done with them on our ready-to-wear collections, it felt like a natural step to partner with them on this jewelry line. We wanted the jewelry to express the same playfulness that we do in our collections."
Atelier Swarovski by Mary Katrantzou 'Nostalgia' Collection
Katrantzou brings her characteristic color and imagination to the Atelier Swarovski 'Nostalgia' Collection. Her innovative design features loose colored crystals and Swarovski Crystal Pearls encased within high-shine geometric frames for a playful, expressive look. New colorways for Autumn/Winter 2018 include pink crystals in gold plating and aurora borealis crystal in palladium plating. This season's range also includes two transparent clutches with gold and crystal detailing.
Mary Katrantzou commented: "I feel privileged to continue exploring the world of jewelry with Atelier Swarovski's expertise and craftsmanship. Keeping the geometric structures of our Spring/Summer 2018 collaboration, the new season expands the universe of our partnership with Atelier Swarovski with updated tonal colours in the characteristic brilliance of Swarovski crystal. Refined, feminine and always playful."
Atelier Swarovski by Tabitha Simmons Collection
Stylist-turned-footwear designer Tabitha Simmons has created a couture update on charms and lockets for her debut Atelier Swarovski collection, bringing her signature brand of refined glamour and sleek femininity to crystal jewelry. The 14-piece collection includes statement drop earrings, on-trend mismatched earrings and an ear cuff, a statement necklace, pendant necklace, bracelet and ring, and is available in two colorways: amethyst, blue and emerald crystals with ruthenium plating and clear, silver and grey shade crystals with palladium plating.
Atelier Swarovski Core Collection
Atelier Swarovski launches a contemporary new Core Collection line for Autumn/Winter 2018: 'Fluid', which celebrates the beauty of crystal in its purest form. Featuring baguette-cut crystals in simple lines, the collection enhances the magical way crystal plays with light. The 21-piece collection is available in three colorways: silver crystal with palladium plating, golden crystal with gold plating and smokey quartz crystal with ruthenium plating.
The bestselling 'Moselle' line returns in a gold colorway and has been reimagined in two new 'ombre' colorways: clear crystal to blue shades and golden crystal to silver shades. For Autumn/Winter 2018, the 24-piece collection include styles with smaller beads for a finer, more delicate option, and new on-trend styles including hoop earrings, duster earrings and stacking rings.
The 'Calypso' collection also returns for Autumn/Winter 2018 in a 12-piece range in two colorways for autumnal styling: golden crystal in gold plating and black diamond in palladium plating. The statement collection features stunning oversized crystals surrounded by hand-set pavé stones for an eye-catching look.