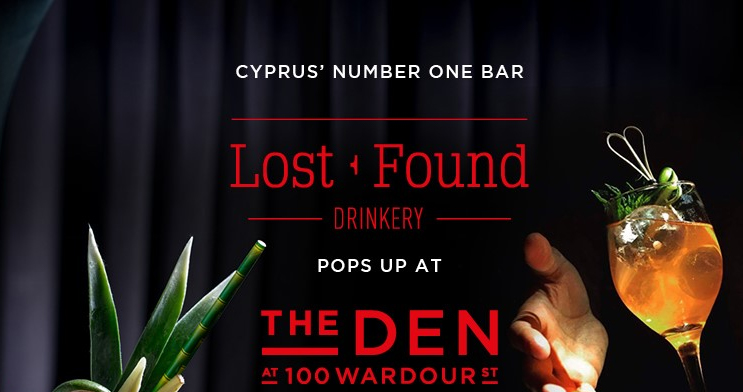 Lost + Found, renowned for its quirkiness and killer cocktails, will set up shop at The Den from 4th to 7th June in celebration of the Soho bar's elegant makeover and new cocktail concept launching in June.
For the first time ever, the Cyprus-based drinkery will bring their coveted
cocktails exclusively to a London venue.
Founder Dinos Constantinides and his team will be showcasing their expert skills and inimitable
concoctions, which deservedly won 29th place in the 2017 World's 50 best bars list, offering
Londoners the chance to sample Lost + Found's renowned and innovative cocktail menu firsthand.
The Den, nestled in the heart of Soho, will be fully revamped in time for the takeover. The
intimate and cosy space will feature a new refined look, with dark hues and eccentric touches
providing the perfect stage to host some of the world's most cutting-edge cocktails. The Den will
also launch a brand new cocktail concept in June with a new literary-inspired menu divided into
four categories – fairytales, historic books, all time novels and myths & legends.
Visit: https://www.thedenwardour.com/event/lost-found-at-the-den/