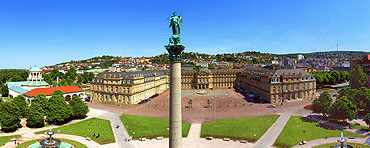 The provincial capital in the south of Germany offers many different and interesting things to see: Beautiful vineyards, Stuttgart Ballet, the State Opera, National Gallery and Museum of Art and very good culinaric meat and drink. So Stuttgart's rich cultural programme will surprise you! Furthermore the many concerts, festivals and celebrations shape life in the city: starting with Cannstatter Folk Festival, Weindorf Wine Festival and the Christmas Market through to the International Animated Film Festival or the Summer Festival of Cultures.
Stuttgart has 23 city districts. Each one of these city districts has its own charm and character: ranging from metropolitan to rural. Many Stuttgart residents have a strong affinity with their city district.
Another nice place in the city is called the Stuttgart City Hall. It is located on Marktplatz in the heart of the city.
If you just want to relax you can do this in many different ways and places in Stuttgart: in the mineral baths or Wilhelma zoo and botanical garden, on a wine trail, on Lake Bärensee or in Killesberg Park.
Sport has always played a major role in Stuttgart. State Capital Stuttgart and over 400 sports providers therefore offer opportunities for people of all ages in all walks of life to be physically active – and there are plenty of sporting events taking place here.
So if you are interested in a trip to Stuttgart have a look on the website of Stuttgart.
Webiste: https://www.stuttgart.de/en/