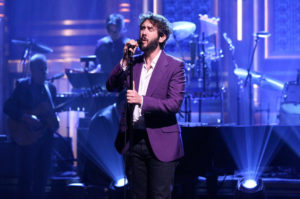 Joshua Winslow Groban (born February 27, 1981) is an American singer, songwriter, actor, and record producer. His first four solo albums have been certified multi-platinum, and he was charted in 2007 as the number-one best selling artist in the United States, with over 22.3 million records. As of 2012, he had sold over 25 million records worldwide. Groban originally studied acting, but moved to singing as his voice developed. Groban attended the Los Angeles County High School for the Arts, a free public school on the campus of California State University, Los Angeles, where students receive a conservatory-style education.  David Foster called Groban to stand in for an ailing Andrea Bocelli to rehearse a duet, "The Prayer", with Celine Dion at the rehearsal for the 1998 Grammy Awards. Rosie O'Donnell immediately invited him to appear on her talk show. Foster asked him to sing at the California Governor's Gray Davis' 1999 inauguration. He was cast on Ally McBeal by the show's creator, David E. Kelley, performing "You're Still You" for the 2001 season 4 finale.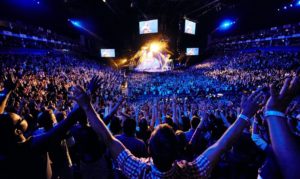 One of the most consistent artists in the game, Josh Groban maintains his superb musicianship throughout the course of 'Bridges.'
"You raise me up, so I can stand on mountains…" Doesn't that lyric just take you back to 2003? That's when Josh Groban released one of the biggest hits of his career, "You Raise Me Up", a cover that far eclipsed the success of the original. Groban has had plenty of great moments throughout his career. With the release of his eighth studio album, Bridges– his first new LP in three years – he adds even more great moments to his resume.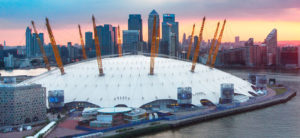 "Granted"
Josh Groban commences Bridges brilliantly with the incredibly smooth, thoughtful pop ballad, "Granted." While he doesn't cover new territory after years and years in the game, Groban sounds as gifted and on-point as he ever has.  One of the things that stands out is the purity of his falsetto, something we don't usually associate with a baritone.
The O2 Arena is a multi-purpose indoor arena located in the centre of The O2 entertainment complex on the Greenwich Peninsula in south east London.
The arena was built under the former Millennium Dome, a large dome shaped building built to house an exhibition celebrating the turn of the third millennium; as the dome shaped structure still stands over the arena, The Domeremains a name in common usage for the venue. The arena, as well as the total O2 complex, is named after its primary sponsor, the telecommunications company O2.
The O2 Arena has the second highest seating capacity of any indoor venue in the United Kingdom, behind the Manchester Arena, but took the crown of the world's busiest music arena from New York City's Madison Square Garden in 2008. The closest underground station to the venue is the North Greenwich station on the Jubilee line.