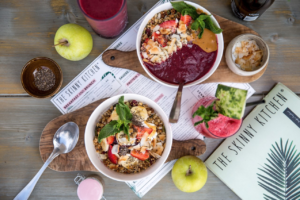 This December 2018, famous celebrity-friendly healthy hangout, The Skinny Kitchen, is bringing its brand of hip clean eating to Islington. Originating from Ibiza, Skinny Kitchen Islington will be the second UK opening with a location already in Canterbury, Kent, and another London location scheduled to open in the New Year in Ealing Broadway.
The Skinny Kitchen was founded in 2014, by husband and wife team, Joel and Lois Belchem, inspired by their love of fitness, clean healthy food and of course Ibiza. Fuelled by their passion and desire to bring something totally unique to the food industry, they immediately set about opening Ibiza's first all-day healthy food hangout, but it didn't stop there!
With amazing feedback from visitors across the world to their Ibiza sites, expansion plans were put in motion to launch in the UK. The owners chose Islington for their next UK opening due to the great mix of trendy independent restaurants and cafés on its busy high street with offices and The Business Centre nearby.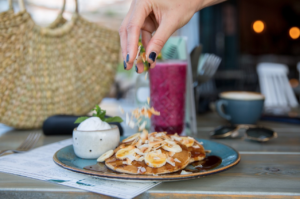 The Skinny Kitchen's ethos remains true to its initial concept; creative, clean and healthy food offering lots of variety to suit many diets. The restaurant attracts a very broad customer base due to the extensive menu that caters to everyone no matter their dietary needs – from gluten-free to vegans to body builders to just people that love eating healthy.
The new Islington location is the largest at 3,000 square feet and channels its Ibiza origins with tropical island-inspired interiors. A large heated outdoor terrace brings the indoor-outdoor island vibes to Islington. The venue boosts sleek pink and teal seating with fresh plants and foliage throughout and hanging from the ceilings. Chic upscale elements such as brushed gold retro light fixtures and marble-top tables elevate the space making for an instagram-worthy dining experience. Diners can sneak a peek at all the fresh produce and healthy dishes being served through an expansive open kitchen.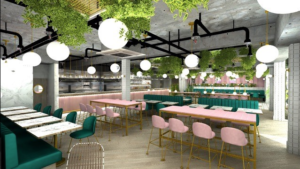 The restaurant offers an all-day dining experience with a sizeable breakfast and brunch menu served until 5pm, including acai bowls, protein pancakes, sweet potato hash, homemade granola, and a Tofu Scramble with avocado, mushrooms and spinach served on sourdough bread.
A guilt-free dessert menu that is sugar-free and vegan friendly includes mouth-watering sweets such as Salted Caramel Crumble with granola, banana and coconut cream, Chocolate Pot with chocolate mousse and a caramel centre, and Carrot Cake made with cashew cream.
Inspired by her healthy lifestyle and travels to Bali and Ibiza, co-founder Lois created a food menu with top selling dishes including buckwheat noodles, chicken satay burger, coconut cod curry, protein bowls, healthy sweet potato, avocado and polenta fries, tortillas and tacos. Meat and produce are all sourced from trusted local suppliers, as well as reputable national suppliers such as PhD Nutrition and Whole Foods.
There is also a wide variety of drinks on offer from fresh ground coffee to superfood cocktails, not to mention fresh juices, smoothies and protein shakes. Bestselling smoothies include the Ultimate Detox (broccoli, spinach, kale, mango, ginger and apple juice), Skinny Bunny (pineapple, banana, mango, spinach, lemongrass, coconut milk), and Superfood City (mixed berries, bananas, mango, activated charcoal, flax seeds, chia seeds, almond milk).
The impressive alcohol menu offers many healthier options such as organic beers, superfood cocktails and low sugar spirits and mixers. Popular superfood cocktails include the Black Mojito (Barcelo, platinum rum, mint, activated charcoal, lime soda, brown sugar), Acai Smash (Jack Daniels, blueberries, acai, maple, lemon, pomegranate, mint), and Matcha Made In Heaven (Rives London Dry Gin, Matcha, lemon, egg white, ginger, agave, lemon).
Everyday food with a clean, healthy twist, The Skinny Kitchen is a fresh meeting place for all-day dining. Think delicious coffee in the morning, guilt-free superfood cocktails after work, and good vibes in the evening with a whole lot of healthy food in-between. The Skinny Kitchen is intent on helping you eat well, track your macros and stick to your diet goals. If your lifestyle is all about healthy food, you've come to the right place!