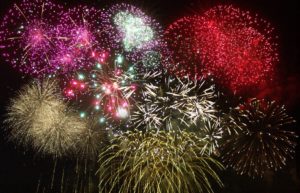 Australia was among the first countries in the world to see in 2019, setting the bar high as an estimated one million people crowded Sydney Harbour to watch more than 100,000 pyrotechnic effects.
London's sold-out New Year's Eve fireworks –is always the largest dazzling riverside display in Europe. A soundtrack featuring Europe's finest musical artists celebrated the diversity of the capital, after Big Ben chimed once more. Spectators lined the banks of the Thames to watch 70,000 projectiles made up of eight tonnes of fireworks fire into the sky from three barges and the London Eye. In Paris tourists packed into the Champs-Elysees to celebrate New Year's Eve while the Arc de Triomphe monument became the centre piece for an incredible light display. In Berlin tens of thousands of people celebrated at the landmark Brandenburg Gate.

New York partied in the rain and the Times Square with the traditional crystal ball drop and a string of star performances. At midnight Auld Lang Syne played over loudspeakers. Bebe Rexha sang John Lennon's 'Imagine' just before the midnight ball drop. No place does flashy like Las Vegas as fireworks shot from casino-resorts and superstar performances from Lady Gaga, Celine Dion, Gwen Stefani and others. Celebratory midnight toasts were anchored by an 8-minute firework show on the Las Vegas Strip. The pyrotechnics were choreographed to a soundtrack that included Frank Sinatra's 'Luck Be a Lady' and Lionel Richie's 'All Night Long'. New Year's Eve is worth more than $400 million. In Rio de Janeiro more than two million people packed onto Copacabana beach to watch a 14-minute firework display that ushered Brazil into 2019. With the temperature in Rio over 29°C – so a dip in the water was the only option for many watching the incredible light display.
United Arab Emirates Fireworks crackled at Dubai's Burj Khalifa, the world's tallest building, as hundreds of thousands of spectators gathered downtown to watch the spectacular display. Elsewhere in the UAE, the emirate of Ras al-Khaimah attempted to set a new Guinness World Record with the longest straight-line display of fireworks reaching 7.35 miles. In Philippines Dozens of people were injured ahead of New Year's Eve when many across the Philippines set off powerful firecrackers. Follow the tradition stems from a Chinese-influenced belief that noise drives away evil and misfortune. In China in Beijing, outdoor revellers had to brave temperatures well below freezing. And in Hong Kong, festive lights on skyscrapers provided the backdrop for a fireworks, music and a light show over Victoria Harbor on a chilly evening.