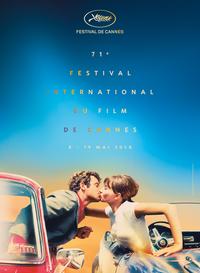 The line-up for this year's festival suggested a renewal for the world's most famous festival. With innovation and discoveries the promise at a decidedly not on-demand festival, Cannes seems to have decided to burnish its leadership credentials As ever, there were new films from world-renowned filmmakers (Terry Gilliam, Lars von Trier, Nuri Bilge Ceylan, Asghar Farhadi, Jean-Luc Godard and others), but the organisers have also clearly made an effort to include less familiar names among the 21 filmmakers vying to win the Palme d'Or, the festival's top award. Still a necessary talking-point, though, is the lack of women (just three) among those 21 contenders. Over 70 years, the festival has expanded to fulfil many sets of expectations: red-carpet black-tie glamour from the biggest movie stars, breaking news and celebrity interviews for 4,000 global press, a vital film market for international buyers and sellers, and of course the films that will be assessed by the media and world's most exacting critics. This year, the jury to award the festival's big prize, the Palme d'Or, is headed  by Cate Blanchett. Standing atop the steps of Cannes Film Festival,  Cate Blanchett dedelivered a sunning speech on gender equality.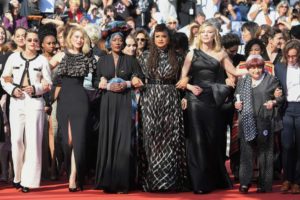 The actor – who currently serves as Cannes jury president – was joined by 81 other women in the film industry, each person representing one of the 82 female directors who have previously climbed those steps.
That number, as pointed out by Blanchett, pales in comparison to the 1,688 male directors who have made the same journey since the festival started in 1942. She also noted how the Palme d'Or, the festival's most prestigious award, has been bestowed on 71 male directors but only two female directors.
"Women are not a minority in the world, yet the current state of our industry says otherwise," she said, standing beside fellow jurors Ava DuVernay, Kristen Stewart, and Léa Seydoux, while famous French director Agnes Varda translated the statement. In a ceremony that included a passionate Asia Argento calling out Harvey Weinstein, the proceedings finished with a first: winners were invited to step outside the Palais as Sting sent out an "SOS" in a concert from atop the red carpet. This was a Cannes that started quiet and finished with a bang.
The festival is over, the award winners have been announced:
Japanese director Hirokazu Kore-eda won the Palme d'Or at the 71st Cannes Film Festival for his film "Shoplifters," marking just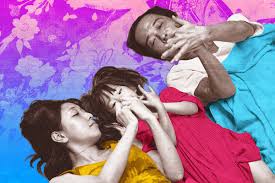 the second time this century that an Asian film has claimed the festival's top prize (the other being Apichatpong Weerasethakul's "Uncle Boonmee Who Can Recall His Past Lives" in 2010). A moving portrait of a self-made family whose secret ultimately jeopardizes their ability to stay together, the widely praised drama represents Hore-eda's fifth time in competition, making him one of the few veterans in a line up weighted toward less established directors. Japanese master Koreeda Hirokazu steals up on our feelings with a subtly, furiously humane analysis of his perennial theme – family, here at its most impromptu and vulnerable.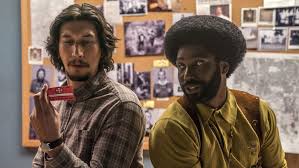 Spike Lee's raucous investigative satire of American white nationalism whoops up a true fairy tale of anti-racist swamp-draining – without obscuring the bigger picture of a bigotry that endures. American director Spike Lee won the Grand Prix for his blaxploitation-styled anti-racism satire "BlacKkKlansman," one of just two American films in the official competition (the other, David Robert Mitchell's poorly received "Under the Silver Lake," went home empty-handed). Spike Lee's raucous investigative satire of American white nationalism whoops up a true fairy tale of anti-racist swamp-draining – without obscuring the bigger picture of a bigotry that endures. After accepting the prize "on behalf of the People's Republic of Brooklyn, New York," Lee told the press, "Cannes was the perfect Launchpad for this film. I hope the film can globally get us out of our mental slumber, and start to get back to truth, goodness, love and not hate."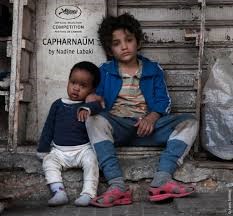 Jane Campion is still the only woman to have won the Cannes Film Festival's Palme d'Or. Although Lebanese director Nadine Labaki's  was a strong contender and earned the Jury Prize for her film "Capernaum," a wrenching neorealist portrait of a Beirut street urchin who sues his parents for bringing him into the world. She accepted the award on-stage with child actor Zain Al Rafeea, one of many young performers responsible for carrying films in this year's festival (Palme d'Or winner "Shoplifters" also hinges on a pair of child performances).
Best actor honours went to "Dogman" actor Marcello Fonte, who plays a shrimpy small-town dog washer bullied to the point of breaking by a local thug.
Considering the sheer number of strong female performances at this year's festival, many were surprised to see best actress awarded to "Ayka" star Samal Yeslyamova, whose character — an illegal alien who abandons her new-born baby in sub-zero Moscow — certainly endures the most on-screen hardship.
Jury president Cate Blanchett announced an exceptional Special Palme d'Or to Jean-Luc Godard, who has not attended Cannes since 2004 and was therefore not present ("The Image Book" producers Mitra Farahani and Fabrice Aragno accepted on his behalf). On-stage, Blanchett described Godard as "a cinematic artist who is continually striving to define and re-define what cinema can be," later elaborating that his film "lingered with us, confused, confounded, provoked, angered, excited us [and ultimately] influenced our perspective on the rest of the festival."
Best director honours went to "Ida" Helmer Pawel Pawlikowski for "Cold War," a black-and-white relationship drama set against the backdrop of the Iron Curtain. The best screenplay prize was shared by Italian writer-director Alice Rohrwacher for "Happy as Lazzaro" and Iranian collaborators Jafar Panahi and Nader Saeivar for their film "3 Faces." (The jury also went out of its way to acknowledge two filmmakers, Panahi and "Leto" director Kirill Serebrennikov, who were unable to attend the festival on account of legal woes in their home countries.)
On the whole the Cannes Film Festival as always is a celebration of some of the best films and filmmakers working in global cinema today!
Competition result:
Palme d'Or:  Hirokazu Kore-eda, Shoplifters
Grand Prix: Spike Lee, BlacKkKlansman
Director: Pawel Pawlikowski, Cold War
Actor: Marcello Fonte, Dogman
Actress: Samal Yeslyamova, Ayka
Jury Prize: Nadine Labaki, Capernaum
Screenplay — TIE: Alice Rohrwacher, Happy as Lazzaro & Jafar Panahi, Nader Saeivar, Three Faces
Special Palme d'Or: Jean-Luc Godard
OTHER PRIZES
Camera d'Or: Lukas Dhont, Girl
Short Films Palme d'Or:  Charles Williams, All These Creatures
Short Films Special Mention:  Shujun Wei, On the Border
Golden Eye Documentary Prize: Samouni Road
Ecumenical Jury Prize: Nadine Labaki, Capernaum
Ecumenical Jury Special Mention: Spike Lee, BlacKkKlansman
Queer Palm: Lukas Dhont, Girl
UN CERTAIN REGARD
Un Certain Regard Award: Ali Abbasi, Border
Best Director: Sergei Loznitsa, Donbass
Best Performance: Victor Polster, Girl
Best Screenplay: Meryem Benm'Barek, Sofia
Special Jury Prize: João Salaviza & Renée Nader Messora, The Dead and the Others
DIRECTORS' FORTNIGHT
Art Cinema Award: Gaspar Noé, Climax
Society of Dramatic Authors and Composers Prize:  Pierre Salvadori, The Trouble With You
Europa Cinemas Label: Gianni Zanasi, Lucia's Grace
Illy Short Film Award: Patrick Bresnan, Ivete Lucas, Skip Day
CRITICS' WEEK
Grand Prize: Gabriel Abrantes, Daniel Schmidt, Diamantino
Society of Dramatic Authors and Composers Prize: Benedikt Erlingsson, Woman at War
GAN Foundation Award for Distribution: Sir
Louis Roederer Foundation Rising Star Award: Félix Maritaud, Sauvage
Short Film:  Jacqueline Lentzou, Hector Malot – The Last Day Of The Year
FIPRESCI
Competition:  Lee Chang-dong, Burning
Un Certain Regard: Lukas Dhont, Girl
Directors' Fortnight/Critics' Week:  Zsófa Szilagyi, One Day
CINÉFONDATION
First Prize:  Diego Céspedes, The Summer of the Electric Lion
Second Prize — TIE:  Igor Poplauhin, Calendar & Shen Di, The Storms in our Blood
Third Prize: Lucia Bulgheroni, Inanimate
Website: https://www.festival-cannes.com/en/69-editions/retrospective/2018/selection/competition-1
Author: Eleanor Belson
20.05.2018