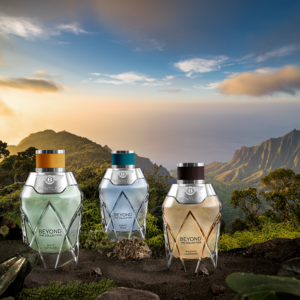 For a century, Bentley Motors has been manufacturing luxury cars that combine excellence and expertise, tradition and modernity. The Bentley Fragrances perfume collection draws its inspiration from this prestigious world in which leather and wood panelling become a work of art.
The new collection called "Beyond" is composed by three rising young master perfumers, the first trio of the collection takes us to three different countries India, Indonesia or Mexico.
The bottles are inspired by the curves and materials used by Bentley Motors, combining power and style.
The bottle features two Bentley icons: the famous knurling on the stopper and the legendary "flying B" perching proudly on its top.
There are three perfumes:
Exotic Musk: A silky haze of musk evokes the sensuality of Acapulco nights. The rich, sunset glow of amber woods enhances the lustre of a fragrant black pearl: the tonka bean.
Majestic Cashmere: A glittering embroidery of powdery orris absolute and ambrette, a vegetal musk drawn from hibiscus seeds, offsets the smoothness of the fragrance's main note, Cashmere wood, with its facets of musk and amber.
Wild Vetiver: Extracted from the roots of a bush that grows wild in Indonesia, vetiver essence is so rich it is a perfume in itself, its citrusy facets are enhanced by top notes of bergamot and pepper, while verbena adds its green, anise-based sweetness to its rounded, nut-like nuances.
website: https://www.bentley-fragrances.com/pressroom/beyond