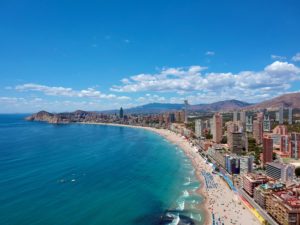 With a flight time of just over two hours from most Northern European airports, Benidorm affords great value for money compared to other destinations. The cost of food and drinks are low due to the competition between the amount of bars & restaurants in this hugely popular resort, which attracts millions of tourists every year.
Benidorm by day
Depending on the time of the year that you visit this wonderful City By The Sea, you will find much to do to fill your daytime hours. You will be spoilt for choice for what to do while you are in Benidorm!
If lying on the gorgeous beaches, developing a golden tan and swimming in the warm Mediterranean sea, shopping or strolling around the boulevards and parks, sitting on cafe terraces and soaking up the sun aren't enough, then you could try an adventure that you wouldn't have the opportunity to do at home, like riding a jetski, or paragliding.
Benidorm by night
One of the main reasons people go on holiday is to de-stress. What better way is there than a good old 'night on the tiles'?  If you are looking for a place to party, Benidorm will not disappoint!
If Comedy and Live Music is your thing, then you really are in the right place. Situated all around the New and Old Towns are a variety of Venues where you can view a different Act every night. Nowhere else on the Costa Blanca can offer such a variety of venues.  Around the Rincon, especially along Calle Ibiza and Calle Gerona the area transforms itself into something resembling Las Vegas. It really is all here, from a man with a naughty monkey to a Girl's Aloud Tribute Act, from funny guys in drag to stunning Soul music.
You will find something different every time you go out.