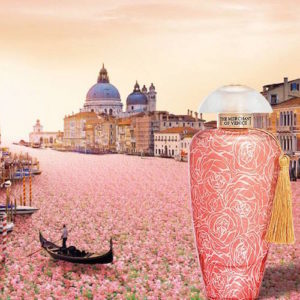 ROSA MOCENIGA
A scent inspired by a sophisticated flower, originally native to China, whose name derives from the ancient Venetian family of Mocenigo.  For over 200 years, this unique rose has been grown on the family's historic residence in Venice, brought there from France in 1814 thanks to Lucia Mocenigo.  Lucia was friends with the beautiful Rose (Joséphine) Bonaparte, who is perhaps better known as being Napoleon's wife. Today, the passion and enchantment of the rose's enticing perfume has been delicately captured by The Merchant of Venice, allowing the natural sensuality of the flower's fragrance to fully blossom….   
Rosa Moceniga is available in the UK from Harvey Nichols and House of Fraser,
priced £120 for 100ml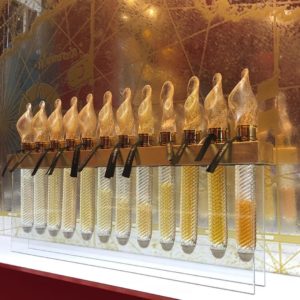 MURANO COLLECTION FLAMES
Comprising twelve Extrait de Parfum, The Merchant of Venice has created a collection of "flames" using premier quality raw materials. Enhanced by a very high perfume content, these fragrances are both exquisitely refined and wonderfully luxurious. Choose from rose scents, such as Secret Rose, Divine Rose or Rose Cloud, or try the enticingly named Oudelicious. Each seductive composition is bottled in an elegant vial made of finely decorated glass, and the overall design is sealed by a glittering flame that enriches this elegant container.
The Flames are available in the UK from Harrods,
priced £180 for 30ml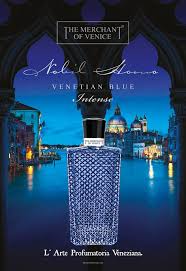 VENETIAN BLUE INTENSE
The Merchant of Venice has launched a new concentrée fragrance as part of the Nobil Homo Collection for men. Called Venetian Blue Intense, this new scent is a sophisticated update of one of the brand's most popular perfumes. Marine and fougère notes are enhanced by a high concentration of fragrance, generating a long-lasting explosion of freshness. 
A musky and smoky base is diffused by patchouli and birch, and fresh spices meet the energy of citrus fruits. Lemon and bergamot are mixed with unexpected hints of juicy apple and pineapple. The glass bottle's decorations are reminiscent of the patterns of noble Venetian fabrics, and the intense blue colour evokes the elegance and majesty of the sea, the primary source of Venice's riches.
Venetian Blue Intense is available in the UK from Harvey Nichols and Selfridges,
priced £165 for 100ml.