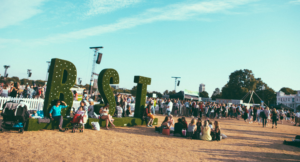 Barclaycard presents British Summer Time Hyde Park has teamed up with the UK's biggest and best craft beer festival, Craft Beer Rising, for two special summer events on Wednesday 10th July and Thursday 11th July to celebrate all things craft beer, street food and festival vibes. World class headline acts such as Joe Goddard and Joey Negro and esteemed breweries including Mad Squirrel, Mondo Brewing Company and Brick Brewery will make Craft Beer Rising presents Brew Summertime the biggest outdoor craft beer and street food festival in the UK.
It's all taking place at London's iconic festival Barclaycard presents British Summer Time Hyde Park and tickets start at just £5.90 (+£1 bf) making this unique Hyde Park experience is an absolute steal!
Brew Summertime brings the independent craft beer revolution to Hyde Park with the finest ingredients, eco-values, traceability and organic credentials. A unique experience among such events which are often limited by their big brand ownership. Building on years of expertise gained hosting Craft Beer Rising each February, this brand new 4,000 capacity event will transform the festival's lavish Barclaycard VIP Summer Garden into a unique space offering the very best in artisan beer, cider, spirits, food and music. There's plenty of choice too, with 36 brewers sourced both locally and far afield, five drinks partners, a vast array of premium drinks and seven acclaimed and gourmet street food vendors.
Brewers include the likes of contemporary tastemakers and flavour masters Mad Squirrel who are based at the foot of the Chiltern Hills and fixated on quality. Then there is the forward looking Lagunitas Brewing Company which started in California in 1993 and has gained a reputation for its fine IPAs and pale ales. Others include West Country cider specialists Orchard Pig who use their own home grown apples and local crew Brick Brewery, known for their sour beers and summer facing ingredients from berries to cucumber.
Street food will be of the highest quality from assured and accomplished brands such as Flank by Thomas Griffiths, who offers modern, seasonal, British cooking using an open flame barbecue plus Island Poké who bring the classic Hawaiian dish of cubed, marinated fish topped with slaw, seaweed, fruit salsas and pickles. Of course there will also be plenty of delicious wood-fired pizza, gourmet burgers and some mouthwatering British crab as well as vegan and vegetarian traders too.
On Wednesday the perfect soundtrack will come from one half of Hot Chip aka Joe Goddard; a dance music innovator who brings a colour mix of house and disco with a real sense of party. He's played all over the world and sold millions of records so knows which tunes to pull to get people grooving. He will be joined by RAW SILK aka UK pals Grace and Steph who bring a love of boogie, soul, jazz, disco and deeply dug out delights.
Thursday is headlined by the one and only Joey Negro, a long time disco pioneer who has shaped the genre through his own productions, DJ sets and labels as well as his star studded residency at Glitterbox in Ibiza and London. One of the first to bring these sounds to the UK; what he doesn't know about this genris not worth knowing. He will be joined by Krywald & Farrer, the guys behind the Persies Edits series, one of which has seven million hits on YouTube and is sure to get your hands in the air.
This is the ultimate summer experience for lovers of real beer and ale, genuinely tasty food and musical good times.
Craft Beer Rising presents Brew Summertime tickets will start at just £5.90 (plus £1 booking fee) and are available to buy at http://www.craftbeerrising.co.uk.
EVENT DETAILS:
Venue: Barclaycard presents British Summer Time Hyde Park, London
Dates: 10th July + 11th July
Doors: 4pm
Curfew: 10pm
Entrance: Garden Entrance (west of the site).
Age restriction: 18+ only
TALENT
Wednesday Acts
Joe Goddard
RAW SILK
Thursdays Acts
Joey Negro
Krywald & Farrer
BREWERIES
LAGUNITAS BREWING CO.
MAD SQUIRREL BREWERY
JUBEL
FRIENDSHIP ADVENTRUE
WEST BERKSHIRE BREWERY
ORCHARD PIG
FIERCE BEER
MONDO BREWING COMPANY
BRICK BREWERY
LOST + FOUND
NEW ZEALAND BEER COLLECTIVE
HOFMEISTER
KENTISH PIP
PABST BLUE RIBBON
MENABREA BIRRA
BREWGOODER
BRIXTON BREWERY
BREWBOARD
STONE & WOOD BREWING
SALT BEER FACTORY
CURIOUS BREWING
INNIS & GUNN
FRULI STRAWBERRY BEER
LAINE BREW CO.
SXOLLIE CIDER
WILDERNESS BREWERY
HEVERLEE
TINY REBEL
FREETIME BEER CO.
plus more TBC
STREET FOOD TRADERS
FLANK
CLAW
CERU
ISLAND POKÉ
BURGER & BEYOND
THE BALLROOM
FREEWHEELIN' PIZZA
plus more TBC