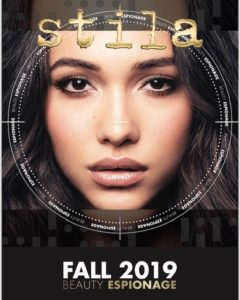 The home of Stila Cosmetics in the UK. For over 20 years, Stila has been inspiring fashion week make-up and creating artistry-proven products that perform as promised, lasting from morning to moonlight, and that take a woman anywhere she dreams to go. New Beauty Espionage Collection:
1. Magnum XXX™ Mascara Mega-volume!
This mega-volume-building mascara is the optimized combination of formula and brush. Surprisingly lightweight, the creamy, non-clumping formula contains Curl Flex, a unique styling resin with exceptional curl retention and lash hold. It leaves lashes shiny and thick, full-bodied, yet flexible. It also contains 1% Diamond Powder for dramatic black color intensity and lash conditioning. The fibers of the super-size, blossom-shaped brush are carved in a statuesque, curved silhouette that channels just the right amount of formula for a lush, rich coat every time you apply.
2. Suede Shade™ Liquid Eye Shadow! Velvety-matte but never flat! Subtle iridescent pearls add a hidden lift to the formula's matte finish, without adding shine.
The effect is a mega-impactful matte finish that wears beautifully alone or paired with Stila's other shimmer or glitter eye shadows. The long-wearing, pigment-packed color glides on smooth with a lightweight, refreshing feel.
• Sassy (Nude pink)
• Enchanted Earth (Olive green)
• Nude Awakening (Bone)
• Violet Velvet (Light violet mauve)
• Midnight Espresso (Warm brown)
• Smoky Silk (Light grey)
• Bust A Mauve (Deep mauve)
• Something Blue (Sky blue)
3. Hide & Chic Fluid Foundation A magic elixir of plush pigments and good-for-you ingredients smooths, blurs and nurtures for a healthier-looking, more refined and even-toned complexion. So much to love about this formula! The texture! Incredible coverage for such a thin, liquid formula! Innovative silica-coated pigments with a comfortably-cushioned, bouncy feel stay silky-smooth and breathable all day. No caking or flaking. Good-for-you ingredients!
Shake to activate the proprietary blend.
Irish Sea Moss, known to improve texture and hydration.
Baobab Seed Extract to help defend and nurture.
Customisable coverage! From nearly nothing to covert concealment.
You choose the level! Long-wearing and humidity-proof.
Natural satin finish. 30 shades.
Plant Collagen Extract, a combination of five roots and veggies, to help firm skin and improve elasticity.
Website: https://stila.co.uk/collections/new