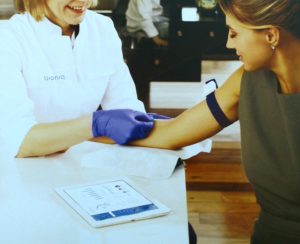 Setting the benchmark in bespoke health optimisation, bioniq LIFE takes away the hassle and guess work out of finding the right solution for you.
Developed by leading experts, this pioneering system gives you a detailed insight into your current health status and provides you with a tailored supplement regime, delivered directly to your door.
At first you have to take a at-home blood test conducted by specialists, so that they can analyse over 30 principle blood parameters based on gender, such as cholesterol, hormone levels and insulin, which all have an impact on general health and wellbeing. As a result of regular testing and monitoring, this system will evolve and adapt with you throughout your bioniq journey, in order to optimise your wellness.
Then they will give you certified lab results and data driven recommendations, followed by a personal consultation with a nutritionist/dietitian.
After these research you will receive personalised Swiss supplements delivered to your door and you can check your health state on an advanced personal health dashboard.
Each bioniq life formula is personalised to you, dependent on a variety of factors such as your blood test results. Therefore your supplement may only contain vitamins, herbal essence, amino acids, micro elements and additional components.
The components within their supplements are colourant-free, preservative-free, odour-free, suitable for vegans and gluten-free.
They use a cutting-edge technology to ensure that all your micronutrients can be delivered in one go.
This particular supplements have enhanced absorption, they are also active 24/7 and free from anabolic steroids.
Website: https://bioniq.co/