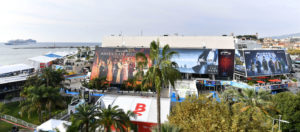 Launched in 1983, MIPCOM – the largest TV market in the world – brings together every year the most influential TV and digital content executives for four days of creative exchange, networking, screenings and inspiring talks. From blockbuster programming to groundbreaking partnerships, the global TV industry converges in Cannes each October to create the greatest gathering in entertainment under the sun. From blockbuster programming to groundbreaking partnerships, every October, the global media and entertainment industry converges in Cannes to turn every moment into an opportunity, transforming four days of exchange and networking, meetings, screenings and conferences, into lasting business.
A CUTTING-EDGE MARKET – Special Features include:
MIPCOM Personality of The Year
Diversity & Inclusion Programm including Diversify TV Awards Woman In Global Entertainment Lunch
MIPCOM's annual thought leadership and networking event for the world's most influential women shaping the future of TV and entertainment
World Premiere & Market Screenings
Get an exclusive first look at the most-anticipated series from around the world
Media Mastermind Keynotes
Learn from international leading decision-makers shaping the future of the global content industry
Production Funding Forum
A unique opportunity for producers and financiers to meet and bring premium content projects to life.
For more info Website:https://www.mipcom.com/