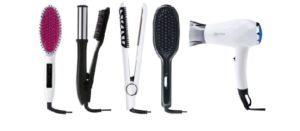 Recreate professional-style results with the innovative InStyler products, thoughtfully designed with state of the art technology to make salon-worthy hair from home easier and more efficient while delivering amazing results:
MAX PRIME 32mm Revolving Styler
Harnessing the styling power of a round brush and blow dryer, the InStyler MAX PRIME 32mm Revolving Styler produces smooth, shiny hair with volume and movement. The iconic bristles emit ions to reduce frizz and the rounded design of the barrel prevents crushing creasing, resulting in healthy, touchable hair with long-lasting, volumised texture. With maximum speed and styling efficiency, the revolutionary styling tool is ideal for use on all hair types.
InStyler CERASILK Styling Iron

The CERASILK Styling Iron features CeraSilkTM texture that serves as a built-in heat protectant to defend against 92% of damage with every pass, adding shine, volume and body whilst styling. The CeraSilkTM texture creates micro sub-surface recesses that generate hot air pockets with intense, radiant heat, which eliminates direct contact with harmful bare plates resulting in amazing styling without the damage.
InStyler GLOSSIE Ceramic Styling Brush
Embrace the ease of a hot brush and the control of a flat iron with the GLOSSIE Ceramic Styling Brush. The easier way to create a glossy frizz-free finish which is full of volume, body and shine, the 4 heat settings of up to 230 ̊, provides superior heat recovery ensuring faster, healthier styling with less exposure to damaging heat. The tourmaline ceramic plates with cool touch ionic bristles and precision press create optimal tension for more controlled styling delivering instant, even temperature across the entire surface.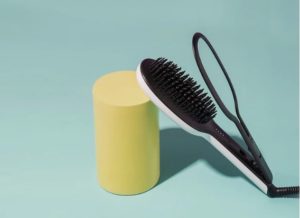 InStyler STRAIGHT UP Heated Ceramic Straightening Brush
Get powerful, instant heat that's evenly distributed across the surface to deliver straight, shiny hair, all in one pass, with the STRAIGHT UP Heated Ceramic
Straightening Brush. 65 powerful ceramic heated plates surround each individual bristle that simultaneously sections and straightens as you glide it down your hair giving superior results with faster styling. Suitable on all hair types, start at the root with the cool touch ionic bristles that prevent the heated surface from actually touching your scalp, then simply brush away frizz to recreate a smooth, sleek look.
InStyler MINI Travel Dryer
The MINI is a travel hair dryer with the power of a full-size dryer in a perfect, compact travel size. It's high compression turbine fan ions remove frizz and adds shine and multiple heat settings create a long-lasting style with a smooth, touchable texture, making it ideal for all your travel drying and styling needs. It's like having your full-size dryer with you everywhere you go.
For prices and more information please visit: https://www.boots.com/instyler