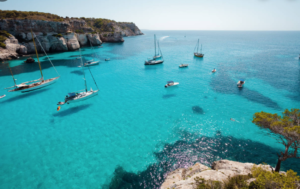 This wonderful group of islands is divided into Gimnesias (Mallorca Minorca and Cabrera) in the North, and Pitiusas (Ibiza and Formentera) in the South-West.
Their excellent climate with some 300 days of sun per year, wonderful beaches, a rich cultural offer and the unusual hospitality of their inhabitants make Balearic Islands one of the preferred holiday destinations in Spain. There are more passengers at the airport of Palma de Mallorca than at the airport of any other Spanish city. Hardly anybody who has spent holidays here didn't wish to return, in fact, many visitors have made the islands their permanent home. Each of the islands has a strong personality all of its own, and each of them offers much more but the possibility to spend nice holidays at the beach …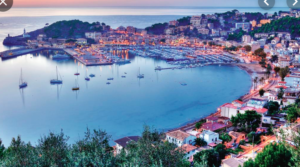 The numerous prehistorical findings made on Balearic Islands are not only of importance for studies on the history of the islands, but of all Europe. Alone on Menorca some 500 findings were made, that is why it is nicknamed sometimes a prehistorical open air museum. The monumental stone constructions, Talayots, Taulas and Navetas, probably served for ritual ceremonies. The cuisine of Balearic Islands, of course of Mediterranean tradition, has gained a great reputation in all Spain. It is extraordinarly varied – more than 600 different recipes are considered typical "Balearic". The internationally best known recipe is … mayonnaise – although out of Spain there is hardly somebody today who knows that it orignally came from Menorca. In Spanish language it is called Salsa Mahónesa, and it was prepared for the first time in Mahón.