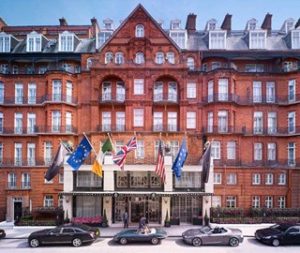 In the midst of all the awfulness of the coronavirus pandemic there are a few flickers of hope and good news, and for these we're not only grateful in the moment, but we'll remember them long after we emerge at the other side of this crisis. And one has to be Maybourne Hotel Group, owners of Claridge's, The Connaught and The Berkeley, who have just offered up their rooms to NHS staff.
Starting this week at Claridge's, the five star world famous hotel will welcome 40 NHS workers in an act of generosity to the staff at the very front line of the battle against coronavirus. The superstar guests will receive dinner and breakfast, while the hotel will provide over 500 packed lunches for NHS workers and community support teams throughout the capital.

According to the hotel group owner Paddy McKillen "Just as it has in the past world wars, Claridge's has a duty to step up and support the people of London. Teams from all our hotels have volunteered, and we are honoured to help and support the dedicated NHS workers at this critical time. We are forever in their debt".
Claridge's will open to staff at St Mary's Hospital in Paddington and will be followed by The Connaught and The Berkeley with a skeleton staff of volunteers providing for the key workers. We simply can't think of anyone more worthy of being pampered than the doctors, nurses and support staff that make up the NHS. Well done Claridge's and Maybourne!