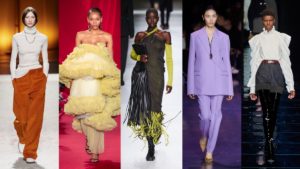 Milan fashion week's  featured many pioneering moments, stunning looks, and vibrant runways. The city welcomed over 50 brands to its fashion week and saw few physical catwalks but plenty of digital presentations. From Versace's under the sea inspired collection to Valentino's Levi's collaboration Full of optimism and dream catchers ready to build a brighter future, here's t hot takes from Milan Fashion Week.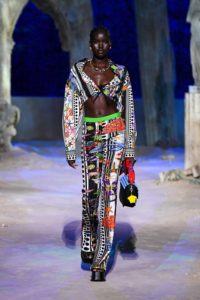 VERSACE'S AQUARIUM – This season, Donatella decided to hold the show behind closed doors and to "give a beautiful experience to all the amazing people who worked so hard to make it happen". Mesmerizing underwater city set and tropical fish prints, reminiscent of her late brother Gianni's iconic SS92 Trésor de la Mer collection, shell necklaces, star-embroidered jackets and satin gowns – Donatella definitely showed one of the most compelling collections of the season. "I wanted to dream and that is the reason why the collection is so full of colours and has such an upbeat soul.  But while we dream of a world that is a better place for everyone, we need to start building it.", said Donatella after the show.VALENTINO'S RADICAL ROMANTICISM – Pierpaolo Piccioli usually shows his collections in Paris. His new collection was surprisingly minimalistic, as if he created couture pieces that could be worn everyday: crochet blouses, elegant flower-patterned dresses and Levi's jeans styled with chiffon blouses or sharp blazers, the result of the collaboration between the two brands. The models breezed by an audience of around 100, while the British singer and songwriter Labrinth sang in the background. "I have been very touched by his music," said Piccioli at the press-conference after the show. "I met him via Zoom of course. He has been so involved in the process. He was very intuitive and emotional. I wanted to deliver an idea of romanticism, emotion, empathy, – and he got it. Fashion for me is a way to talk about the values that matter today. The true acceptance of diversity. Tolerance and kindness. This is the world I want to tell through my work as a designer."
MOSCHINO'S PUPPET SHOW – "The best thing I could do for everyone who is stressed about the election, the pandemic, social unrest, and the future was to give the gift of fantasy and take us away from all of it for a few minutes; let us enjoy this little fashion world of ours.", explained Jeremy Scott, why he decided to stage a fashion puppet show instead of a real one. The 30-inch puppets and guests (the legendary Anna Wintour and Vanessa Friedman were sitting in the front row) were designed by the creator of Miss Piggy and Kermit the Frog, the Jim Henson's Creature Shop. Couture techniques were the main focus of the collection, so most of the miniature ball gowns were shown inside out in a classic palette of beige, gold, olive, pink and blue.