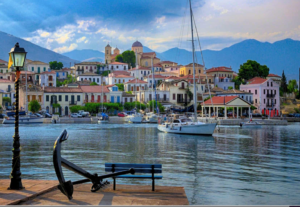 For a really restorative taste of Greek life, though, it's worth swapping the limelight locations for places where mass tourism hasn't obscured the essence of Greek culture: hospitality and a soulful way of life. These 10 stunning island and mainland destinations offer a more nourishing side of Greece. These are the sort of locations that made people fall in love with Greece in the first place, where the Arcadian idea of the good life, pondered by the ancients, is still alive and well.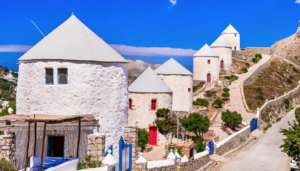 Leros  One of the Dodecanese islands, in the southern Aegean near the Turkish coast, this tranquil oasis is an eight-hour ferry trip from Athens, though there are shorter routes from islands including Rhodes and Kos). Said to be the favourite island of goddess Artemis, it's lush and hilly with many beautiful pebbly coves, and has a colourful history.
Andros Two hours from the port of Rafina, near Athens, this mountainous island is the northernmost of the Cyclades archipelago and a favourite with holidaying Greeks for its food, beaches and pretty villages. More fertile and greener than the rest of the Cyclades, the island has a well-maintained network of trails, making it a hiker's paradise.
Evia Greece's second-largest island, Evia is often overlooked in favour of more glamorous destinations. But this gem within striking distance of Athens is worth exploring for the variety it offers: some parts feel like Switzerland-on-sea; others resemble the Caribbean.
Galaxidi Steeped in maritime history, this pretty little town on the Gulf of Corinth below ancient Delphi is an overlooked gem. Just three hours west of Athens, the elegant neoclassical resort curves around the seafront and has the atmosphere of a Greek island. It was one of the country's wealthiest ports in its 19th-century heyday and an air of grandeur remains
 Folegandros With just 765 inhabitants, and the feel of a less-discovered Santorini, Folegandros offers the chance to kick back and enjoy unhurried island life. The medieval Chora, the main town, is high on a rock, the scenery is dramatic, and the cobbled streets tranquil.