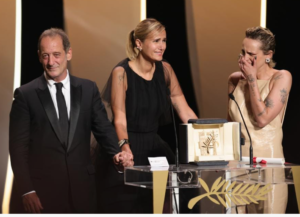 The Cannes Film Festival held its closing night ceremony and final screening on Saturday night. In what was one of the wildest, and most ground-breaking awards ceremonies of recent memory at the Cannes Film Festival French filmmaker Julia Ducournau became the second-ever female director to win the Palme d'Or, with her audacious Titane. The last time a woman scooped the top prize was in 1993 when Jane Campion shared honors in a tie between her The Piano and Chen Kaige's Farewell My Concubine. It's been an exceptional Festival. It was supposed to be, and it's certainly lived up to its promise. For 12 days, the 74th Festival de Cannes has celebrated our reunion with the cinema as a great international event full of discoveries, encounters and sharing.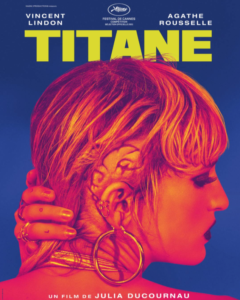 While there were harbingers that Titanewas destined to take home a statue this evening — she appeared on the red carpet ahead of the closing ceremony — it became very clear that her film was the primo laureate when jury president  Spike Lee inadvertently announced the Palme at the outset of the ceremony. Provocateur  Julia Ducournau goes full throttle withTitane, a startling entry into the Cannes competition. While her terrific horror Raw explored gender, power and sexuality via cannibalism, Titane does so with auto(mobile)-erotic symbolism.
Agathe Rousselle is a dynamic lead as Alexia, a car promotions model who, ironically, suffered head injuries in a car accident as a child. The resulting operation involved a good degree of metal, something that appears to have stayed with her into adulthood – and is intrinsically linked to her mentality and sexuality. This might explain her irresistible allure for motor fanatics — or, maybe these are just the type of men who obsess about girls who gyrate on the hoods of sports cars.
The second prize was split between two films: the Finnish director Juho Kuosmanen's Compartment No 6 and Asghar Farhadi's A Hero. This latter film was hugely admired here in Cannes with many tipping it for the big prize: the complex, subtle story of a man imprisoned for debt who thinks he can get out of his jail sentence by paying off his creditor by secretly selling the gold coins that his girlfriend has found by a bus-stop – and then when that looks tricky, muddles his way towards another idea: pretending to be a hero of honesty and returning them to their owner.
Compartment No 6 – is an unexpected success. A love story aboard a train, with a touch of the French New Wave, as a Finnish archaeology student gradually falls for a tough, boorish Russian guy who has a heart of gold.
 Full Winners List:
 LONGS MÉTRAGES I FEATURE FILMS
Palme d'or
Titane réalisé par/directed by Julia DUCOURNAU
Grand Prix Ex Æquo
Un Héros (A Hero) réalisé par/directed by Asghar FARHADI
 Hytti N°6  (Compartment n°6 / Compartiment N°6 réalisé par/directed by Juho KUOSMANEN
Prix de la Mise en Scène I Best Director
Leos CARAX pour/for Annette
Prix du Scénario I Best Screenplay
HAMAGUCHI Ryusuke et TAKAMASA Oe
pour/for Drive My Car
Prix du Jury Ex Æquo I Jury Prize Ex Æquo
Ha'Berech (Le Genou d'Ahed / Ahed's knee) réalisé par/directed by Nadav LAPID
Memoria réalisé par/directed by Apichatpong WEERASETHAKUL
 Prix d'Interprétation Féminine I Best Performance by an Actress
Renate REINSVE dans Verdens Verste Menneske (Julie (en 12 Chapitres)/ The Worst person in the World) réalisé par/directed by Joachim TRIER
Prix d'Interprétation Masculine I Best Performance by an Actor
Caleb LANDRY JONES
dans Nitram réalisé par/directed by Justin KURZEL
UN CERTAIN REGARD
Prix Un Certain Regard I Un Certain Regard Prize:
Razzhimaya Kulaki (Unclenching The Fists / Les Poings Désserrés)de/by Kira KOVALENKOPrix du Jury I Jury Prize:
Die Grosse Freiheit (Great Freedom);de/by Sebastian MEISE
Prix d'ensemble I Ensemble Prize:
Bonne Mère (Good Mother) de/by
 Hafsia HERZI
Prix de L'Audace I Courage Prize:
La Civil ; de/by Teodora Ana MIHAI
Prix de L'Originalité I Prize of Originality:
Lamb de/by Valdimar JÓHANNSSON
Mention Spéciale I Special Mention: Noche de Fuego 
(Prayers for the Stolen) de/by Tatiana HUEZO
CAMÉRA D'OR
Murina 
réalisé par/directed by Antoneta ALAMAT KUSIJANOVIC présenté dans/présented in La Quinzaine des Réalisateurs
COURTS MÉTRAGES I SHORT FILMS
Palme d'or
Tian Xia Wu Ya (Tous les Corbeaux du Monde / All the Crows in the World) réalisé par/directed by TANG Yi
Mention Spéciale I Special Mention
Céu De Agosto (Le Ciel du Mois d'Août / August Sky)réalisé par/directed byJasmin TENUCCI
CINÉFONDATION
Premier Prix I First Prize:
L'Enfant Salamandre (The Salamander Child) de/by
Théo DEGEN INSAS, Belgique/Belgium
Deuxième Prix I Second Prize:
Cicada de/by Yoon DAEWOEN. Korea National University of Arts, Corée du Sud/South Korea
Troisième Prix ex aequo I Joint Third Prize
Prin Oras Circula Scurte Povesti de Dragoste 
(Love Stories on the Move) de/by Carina-Gabriela DAŞOVEANU UNATC "I. L. CARAGIALE", Roumanie/Romania
Cantareira de/by Rodrigo RIBEYRO Academia Internacional de Cinema, Brésil/Brazil
    The final Screening of the 74th Festival de Cannes: OSS 117, Alerte rouge en Afrique noire (From Africa with Love), the third part of the adventures of Hubert Bonisseur de la Bath was shown to festival-goers at the end of the Awards Ceremony in the presence of director Nicolas Bedos, actors Jean Dujardin and Pierre Niney and cast and crew.