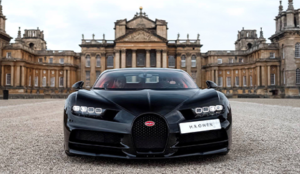 Salon Privé at Blenheim Palace has become a must-attend event for car launches and debuts, and this year will be no different. There is no better place to meet the manufacturers and see the industry's latest and greatest designs up close, and in 2021 there will be plenty to enjoy…
Land Rover, McLaren and Touring Superleggera among those to debut new cars at Blenheim Palace
Salon Privé Week has become a leading destination for launches and debuts
Established marques will line up alongside a new generation of automotive brands
Legendary Italian design house Touring Superleggera returns to Salon Privé for the global debut of its Arese RH95. The mid-engined supercar is named to reflect 95 years of design heritage, and each one can be tailored to the requirements of the individual client. With its dramatic styling, the Arese RH95 follows on from the Disco Volante and the AERO 3 – which made its global debut at Salon Privé last year.
Blenheim Palace will also provide the backdrop for the global debut of the Range Rover Sport SVR Ultimate Edition. Based on the Sport SVR – Land Rover's fastest and most powerful SUV – the Ultimate Edition boasts exclusive colour combinations and detailing. Three colours are available, and other features include a body-coloured carbon fibre vented bonnet and 22-inch forged alloy wheels. Inside, there is an SV Bespoke Ultimate Edition commissioning plaque, chrome SV Bespoke B-pillar badges, illuminated Ultimate Edition treadplates, and black anodised metal gearshift paddles.


McLaren will give the latest model in its Longtail line-up – the 765LT Spider – its dynamic UK debut. With 765PS on tap and lightweight carbon fibre construction, it offers the extreme levels of performance for which the LT models are renowned – 0-124mph in 7.2 seconds and a top speed of 205mph. McLaren will build only 765 of these cars, which it justifiably describes as being 'engineered without fear, driven by the fearless'.
Luxury Italian carmaker Automobili Pininfarina will be giving its Battista Anniversario its UK debut. The all-electric hypercar is the most powerful road-legal car ever to come out of Italy – with an astonishing total output of 1873bhp. Worldwide production of the Anniversario will be limited to just five cars, with the ultra-exclusive models – all of which are reserved – delivered to customers next year. They will represent the pinnacle of Automobili Pininfarina's design philosophy.
Hispano Suiza was one of the most prestigious automotive manufacturers during the inter-war period. Founded in 1904, this hyper luxury carmaker still belongs to the Suqué Mateu family – now in its fourth generation. Hispano Suiza has recently returned to car production with the Carmen, a fully electric hypercar delivering 1019bhp which was named after Carmen Mateu, granddaughter of the company founder. Designed, developed and manufactured in Barcelona, the Carmen features styling that evokes the 1938 Hispano-Suiza Dubonnet Xenia. Beneath its sensational shape lies cutting-edge chassis and powertrain technology. The Carmen will be given its UK debut at Salon Privé so that enthusiasts can see it for themselves.


Another all-electric hypercar set to make its first UK public appearance is the Automobili Estrema Fulminea. Founded in 2020 by Gianfranco Pizzuto, Automobili Estrema is based in Modena and is aiming to make the Fulminea 'the fastest technology lab on wheels'. It will be the first car in the world to use an innovative 'hybrid' battery pack that combines Li-ion cells with solid-state electrolyte and ultracapacitors. The set-up provides 100kWh of energy to power the four electric motors, with a total output equivalent to 2040bhp.
Morgan's sporting reputation was built on early successes in motoring trials that often took place on rough surfaces, and that era is being evoked with the recent launch of the Plus CX-T. Although it's based on the standard Plus Four, the CX-T has been redesigned by Rally Raid UK as a rugged overland vehicle, with a full underbody protection system and bespoke suspension.
The BAC Mono has always been known for pushing the boundaries of what is possible in a road car, and the latest Mono R – which will make its dynamic debut during Salon Privé Week – continues that tradition. Its 2.5-litre engine produces the highest-ever specific output for a naturally aspirated, road-legal model – 138bhp per litre. Thanks to the pioneering use of graphene in its body panels, the Mono R weighs only 555kg and is set to provide the ultimate driving experience.
The stylish A110 has put the Alpine marque back on the map in recent years, and its limited-edition Legende GT 2021 will be making its UK debut. Only 300 will be built, all of which will be more luxuriously equipped than the standard A110, and fitted with the 288bhp engine from the A110S.
Prior to this year's Salon Privé Week, Kimera Automobili has displayed only a static model and a race-spec prototype of its EVO37, but the example that will be at Blenheim Palace is a road-legal model – complete with full interior and a new metallic grey livery. Evoking the fabulous Lancia 037 that lit up rally stages during the 1980s, the EVO37 will be built in a limited run of just 37 cars.
All of the unveilings will take place on the opening day of this year's Salon Privé Week – Wednesday 1 September – and as well as the new cars making their debuts, Rolls-Royce will be hosting the global public debut of the marque's British showroom specialists, each of whom have created concepts for Ghost and Phantom. They draw upon influences ranging from local landmarks to British culture, and demonstrate the marque's extensive scope for all things bespoke. There will also be the chance for enthusiasts to see the latest models from luxury carmaker Genesis.
'We are delighted to be hosting so many global, European and UK debuts from some of the world's greatest marques,' said Salon Privé Director David Bagley. 'It's testament to Salon Privé's standing in the automotive world that they've chosen to show off their latest designs against the peerless backdrop of Blenheim Palace.'
Elsewhere within Salon Privé, there will be a spectacular brand-new feature for 2021 – The Red Collection, which will be presented on Blenheim Palace's famous cricket pitch. The exclusive curated display will be kept under wraps until being unveiled on the opening day of the event, but will include last year's Best of Show 1933 Alfa Romeo 8C 2300 Monza Zagato Spider.
A show-stopping selection of Rolling Bones hot-rods will also be roaring into Salon Privé, and on the Sunday rally cars will be back in action at Blenheim Palace. Among the Group A, Group B and WRC machinery being demonstrated will be cars celebrating the 20th anniversary of the late Richard Burns winning the World Rally Championship.
The inaugural luxury watch fair, Salon Privé TIME will showcase some of the world's leading watchmakers, and first-class hospitality will be on offer throughout the week. From Wednesday's Concours d'Elégance presented by Aviva to Sunday's Classic & Supercar spectacular, each day will offer its own unique character and offer something for all discerning enthusiasts to enjoy.
Salon Privé Week 2021
1 September – Salon Privé Concours d'Elégance presented by Aviva
2 September – Salon Privé Concours d'Elégance presented by Aviva
3 September – Salon Privé Ladies' Day presented by Boodles
4 September – Salon Privé Club Trophy presented by Lockton
5 September – Salon Privé Classic & Supercar
Tickets can be purchased via the website www.salonpriveconcours.com  or by calling the Ticket Hotline: 0808 100 2205.
Charity Partner
Salon Privé is proud to once again have Rainbow Trust Children's Charity as its charity partner. The organisation provides emotional and practical support to families who have a child with a life-threatening or terminal illness, and thanks to the generation donations of guests and Concours entrants, the event has so far raised in excess of £1.1 million for these great causes.