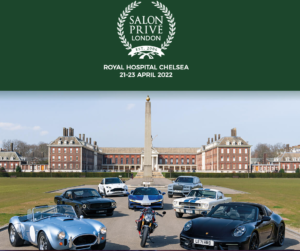 Introducing Salon Privé London: The Luxury Car Event at the Royal Chelsea Hospital.
For three days only, the chance to be part of the world of luxury cars—historic and modern—and to enjoy the exciting lifestyle that goes with this exclusive set.
Carefully curated on the lawn will be a 'concours' of 60 rare historic automobiles. Everything from stately Rolls-Royces from the 20s to iconic racing Ferraris of the 50s. Early Bentleys to early supercars. A collection of the most collectable motoring marques in a unique display of power and passion.
Salon Privé is one of the world's most prestigious automotive events attracting an eclectic mix of the most exotic and desirable brands. On show will be the very latest from Aston Martin, Bugatti, Lamborghini, Maserati, Porsche and Rolls-Royce—many models making their UK debut, live at the event. Could there be a cooler place to check out and order a new car?
For more information and tickets:https://www.salonprivelondon.com/salon-prive-london-concours-de-vente/?gclid=Cj0KCQjw6J-SBhCrARIsAH0yMZiPYmE62poondIJiekDgbScp_ZtetunHfnIHH4moAdK_DfXvJoOPqcaAiUpEALw_wcB