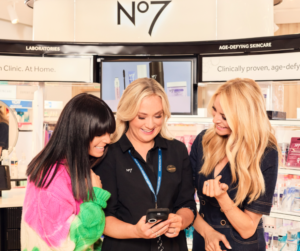 No7, the UK's number one skincare brand is launching a dermatologist-grade diagnostic device in Boots stores across the UK on Weds 6th April called Pro Derm Scan. It is the first piece of beauty tech on the high street that is derm-grade, giving people personalised skincare and cosmetic recommendations – based on its unrivalled analysis of skin health and skin tone.
Research conducted by No7 revealed that 86% women say that when they choose skincare products they leave it to guesswork, with a further 40 per cent saying they have bought products without truly understanding the benefits they will get for their skin. The Pro Derm Scan enables nationwide free access to dermatologist-grade technology for the first time – part of No7's drive to make tailored beauty accessible to everyone.
To celebrate the launch, they have partnered with Tess Daly and Claudia Winkelman.
For more information:https://www.boots-uk.com/newsroom/news/no7-introduces-new-skin-service-using-dermatologist-grade-device-to-boots-stores/