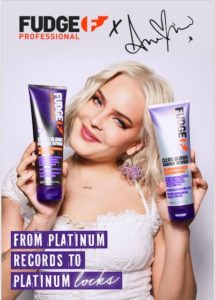 Fudge have been waiting to announce this perfect partnership for the past few months with little clues to who their Global Superstar ambassador may be. So, without further ado, Fudge are thrilled to announce the confirmation of our newest Brand Ambassador (drum roll please) is none other than all-encompassing global singer/ songwriter and hair chameleon of all shades and styles, Anne-Marie!
Anne-Marie was the natural choice for Fudge Professional, given her choice to always #FudgetheRules, her natural ability to slay every colour and every style she adorns, as well as her overall attitude to fully embrace and encourage individuality. Plus, she's been a firm Fudge fan of our products over the years and regularly stopped into the Fudge HQ hair salon.
Essex born Anne-Marie's rise to stardom has been nothing short of meteoric. A former 3 x world karate champion and West End child star, Anne-Marie is a multi-platinum selling artist who has gone onto become one of the world's most-loved and successful pop stars of our times. With a string of chart-busting singles over her career to date – from her Ed Sheeran co-write and outstanding UK Christmas No 1 'Rockabye', and KSI collaboration 'Don't Play' – Anne-Marie is an artist who wins on her playful commentary, magnetic vocals, and infectious personality, not to mention her style and enviable platinum locks. Anne-Marie continues to make new strides, making her prime-time debut as a judge on talent show The Voice (a show she won) and regular appearances on C4 Gogglebox.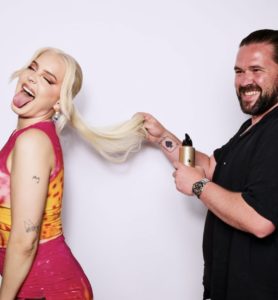 Fudge Professional Global Brand Ambassador Jonathan Andrews says:"Anne-Marie was the natural choice as our new ambassador and to front the new #BuildYourBlonde Campaign and our next In the Chair mini-social series. For the miniseries, we've worked closely with Anne-Marie to re-create her iconic red carpet and show stopping styles at home using our Fudge Professional products. Our products make it easy to keep your blondes bold and brassy tones at bay, as well as keeping locks in optimum condition.
Within the new In the Chair mini-series, Jonathan and Anne-Marie chat her hair styles from beachy waves to high pony's and chatting about their love of tattoos (with even the potential for them to get one together!). As often will happen in a hairdresser's chair, deeper conversations are shared as Anne-Marie talks openly about her initial anxiety joining The Voice, how she's working on her self-confidence with therapy, being okay with acknowledging her successes now, and how her newfound love of reading during lockdown led to writing her own book, You Deserve Better.
"I've been using Fudge Professional products for a number of years – the Clean Blonde Damage Rewind Shampoo is my go-to as it helps me keep my blonde without any yellow undertones, and it's also really shiny. It's been a life saver for me! This new ambassador role with Fudge makes sense as I love to experiment with my hair styles and try lots of looks out. Fudge products are ideal for mixing up my styles but keeping my iconic blondE tone looking on point. It's going to be a fun year working the team!"
To watch the NEW In the Chair with Jonathan Andrew and Anne-Marie, head to @fudgehair on Instagram.
Stockists: Amazon, Beauty Bay & LookFantastic