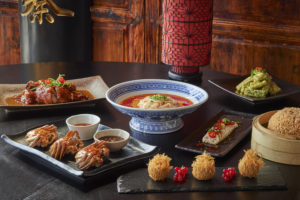 Located on Level 33 of the Shard Hutong Restaurant offers exclusive private dining As the London flagship of the Hong Kong-based Aqua Group, this high-rise Chinese atop the Shard is nigh on impossible to beat for its beautiful carved-wood interiors, glamorous vibes and "incredible" views of London's skyline. Hutong's cuisine takes its inspiration from the dishes served in the imperial palaces of what was then Peking. Based on the "Lu school" cuisine of Shandong Province, the menu artfully captures the subtlety and surprises of Northern Chinese cooking.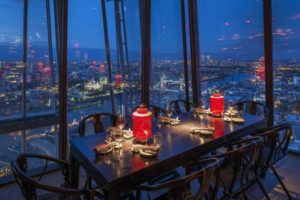 A cocktail selection inspired by ingredients used in traditional Chinese medicine, and a stunning traditional Chinese interior with red lanterns and beautiful hand-carved wooden 'Moon Gates', offers London diners a new destination restaurant with panoramic views over the capital's skyline. 
Whether you are after an intimate evening of private dining or planning a large corporate event, Hutong's expert exclusive events team are to insure that every last detail is taken care of.
For more information and bookings :https://hutong.co.uk/private-events/private-dining/