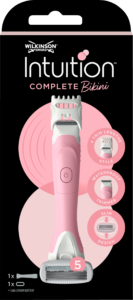 No matter how you choose to remove body hair (or not!), Intuition by Wilkinson Sword has a shaving solution for your needs with new innovative hair removal tools. Turn shave time into ME TIME and enjoy some bathroom self-care, allowing you to feel exactly how you want to feel… like your best you!
Wilkinson Sword Intuition Complete 2-in-1 Bikini Trimmer & Razor
The ultimate tool to help you shape and shave your bikini line to suit you. At one end of this clever tool you'll find a five-blade razor head surrounded by a hydrating skin protect gel with hyaluronic acid to keep skin smooth and irritation-free. Simply replace the razor head with Intuition Complete blades when needed to ensure an ultra-close shave. At the other end, the waterproof, battery powered trimmer enables you to shape the bikini line with four adjustable trim lengths. The flat edged comb glides over the skin for more consistent trim length all over. Packaging is made from over 90% recycled materials and is fully recyclable.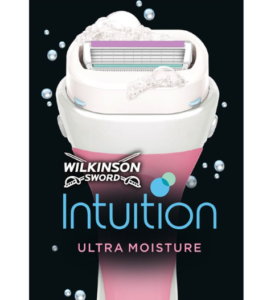 Wilkinson Sword Intuition 2-in-1 Ultra Moisture
For busy women with sensitive or dry skin, look no further than the Intuition 2-in-1 Ultra Moisture Razor. Boasting a four blade pivoting head for high performance, the razor's built-in moisture block infused with Vitamin E, 100% natural Aloe Vera,
Coconut Milk and Almond Oil eliminates the need for shaving foam, helps to hydrate the skin and reduces sensitivity with each glide! AVAILABLE FROM ALL GOOD RETAILERS
For more information visit: https://www.wilkinsonsword.com/products/intuition-ultra-moisture-razor