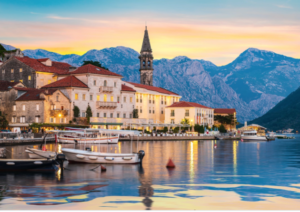 Montenegro - 'Black Mountain') is a country in  Southeast Europe It is located a part of the Balkans and is bordered by Serbia to the northeast, Bosnia and Herzegovina to the north,  Kosovo to the east,  Albania to the southeast, Croatia to the northwest, and the  Adriatic Sea to the west with a coastline of 293.5 km. Podgorica the capital and largest city  overs 10.4% of Montenegro's territory of 13,812 square kilometres (5,333 sq mi), and is home to roughly 30% of its total population of 621,000. So small you could drive across it in an afternoon. Which gives you opportunity not just skim through it but to truly absorb the essence and authenticity.
Meet the treasures of the Montenegrin coast! Breathe in the Adriatic spirit and become mesmerized with the song of the Bay of Kotor, its islands, museums, churches, and palaces. The notes of tropical air, the harmonies of the most beautiful beaches on Montenegro's coast, can be felt on your nostrils and skin!
Discover the picturesque landscapes and fascinating flora and fauna of Montenegro's national parks, as well as many other special places and nature reserves, on a walk through the wild and untamed side of the country!