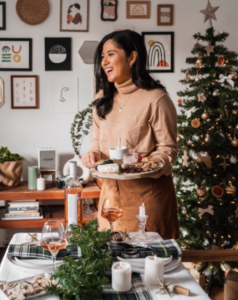 Impress your guests this season with a selection of award-winning wines from Tesco, the 2022 International Wine Challenge Own-Label Range of the Year winner. Whether you're looking for something to accompany your Christmas party canapés, to serve alongside your mouth-watering centrepiece, or simply to enjoy as you wind down by the fire, there are plenty of delicious, great value options for every part of the festive season at Tesco. As fun as the Christmas season can be, it can also be overwhelming with events filling the calendar, entertaining family members you haven't seen in months and the pressures to host a particularly festive event. But there is no need to fear the wine aisle, as the expert Tesco Wine Team are here to help ensure this is a Christmas to remember. We asked consumers what their most pressing festive drink queries are and hope that these answers will provide some extra festive cheer this Christmas.
Q: What are your top tips for catering over the festive period on a budget?
A: Look for our offers in the upcoming months. Make sure to stock up when it's 25% off 6 bottles of wine so that you can spread the cost of party season over the year. You can also take a look at some of the brands that are available exclusively at Tesco like Taparoo Valley, Caparelli and Casa Maña. These offer the best value for money, with bottles around £5. We've included recommendations for these great value wines alongside other splash out bottles in our answers below.
Q: I'm looking for something to serve as an apéritif at our Christmas party, what can you suggest?
A: Tesco has a wide range of perfect pre-dinner tipples, with one of our favourites being the Tesco Finest Prosecco DOC (£8.50). Bubbles are always a good option. This Italian sparkling is produced in the finest vineyards of the Prosecco region. Fresh, with strong aromas of citrus and pear, this fizz is perfect with canapés or on its own.
Tesco Finest Prosecco DOC, 11% abv, £8.50 (vegetarian) IWSC Bronze Medal 2022
Or try Caparelli Rosato Sangiovese Rubicone IGT Blush, 12%

abv, £4.29 (vegan)
IWC Bronze 2022
Refreshing and fruity, this wine has flavours of bright red berries and citrus.
Q: I want to celebrate the festive season without breaking the bank, please help!
A: At Tesco, we're always looking for ways to help customers save money, while still offering great quality. Priced at just £21, multi award-winning Tesco Finest Premier Cru Champagne is a great option and with elegant flavours of citrus, green fruits and brioche with a fine mousse, it is the perfect way to kick off the festivities.
Tesco Finest Premier Cru Champagne, 12.5% abv, £21.00 (vegetarian) IWSC Silver Medal 2022
IWC Silver Medal 2022
IWC Great Value Award 2022
Or try Tesco Low Alcohol Sparkling Wine, <0.5% abv, £3.00IWSC Bronze Medal 2022
This low alcohol sparkling wine is full of fresh citrus flavours.
Q: I'm looking for a red which will work well throughout winter and the whole Christmas period. What do you recommend?
A: The perfect wine for big winter dishes such as a beef casserole or a mushroom ragu would be the Tesco Finest Montepulciano D'Abruzzo (£7). Rich and complex, with flavours of juicy black fruit and savoury spices, this wine stands up wonderfully next to these flavoursome winter dishes.
Tesco Finest Montepulciano D'Abruzzo, 13.5% abv, £7.00 (vegan) IWC Gold Medal 2022
IWC Great Value Red Under £8 2022
Or try Lateral Chilean Cabernet Sauvignon, 12.5% abv, £4.29 (vegan)
IWC Commended 2022
IWSC Bronze Medal 2022
Medium-bodied with a lovely combination of blackcurrant flavours and a touch of spice.