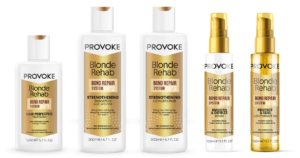 Repair and protect blonde hair with the NEW Blonde Rehab Bond Repair system, developed by the number one purple shampoo brand, PROVOKE. Enriched with a unique powerful pro-bonding complex, comprising ProCutiGen® Bond, Keratin, and Hyaluronic Acid, Blonde Rehab reverses hair damage in just one wash, resulting in stronger, glossier, and healthier locks, which pop with colour!
Check into Blonde Rehab with dry, brittle, frizzy hair and check out with soft, strong, shiny blonde tresses. Specifically designed for blonde hair, its innovative formulation includes Keratin to help strengthen, Hyaluronic Acid to hydrate, and ProCutiGen, which repairs hair bonds in a revolutionary way. Acting like a charged rod sitting between the fibrils in the hair's cuticle, ProCutigen Bond attracts the fibres together like a magnet, to repair and protect the damaged hair bond.
Kris Barnes, celebrity session stylist and colourist, and PROVOKE ambassador comments "Whether natural or bleached, blonde hair requires more TLC than any other colour. Everything from brushing, heat styling, and colouring to environmental aggressors, can cause bonds to break. Naturally blonde hair has a more fragile anatomy: it is denser, but finer and contains the pigment, pheomelanin, which offers less protection than the eumelanin found in brunette hair. I love this range because you see instant results. This five-step bonding routine is affordable and will really keep hair looking salon fresh and strong."
The Blonde Rehab Regime
Nọ 1 BLONDE REHAB HAIR PERFECTOR TREATMENT  
Nọ 2 BLONDE REHAB STRENGTHENING SHAMPOO
Nọ 3 BLONDE REHAB STRENGTHENING CONDITIONER
Nọ 4 BLONDE REHAB SMOOTH & DEFRIZZ SERUM
Nọ 5 BLONDE REHAB PROTECT & SEAL LIGHTWEIGHT OIL
Provoke Blonde Rehab range, £4.99 – £7.49, available from Boots, Superdrug and Amazon now.