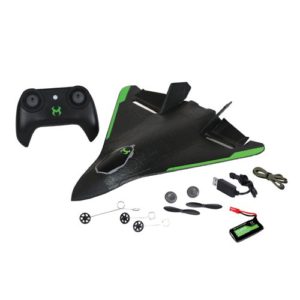 Skyrocket a leading toy company, celebrates 10 years of producing Sky Viper Drones, one of the best-selling and most popular "toy" drone brands in the mass market. Leveraging the latest innovations in the industry their groundbreaking product portfolio is changing the way consumers engage and interact across generations. The innovative Sky Viper Vector Stunt Jet is the company's first ever high-speed, high-performance R/C stunt plane. The Sky Viper Vector Stunt Plane is named an Outdoor Toy of the Year Finalist by the Toy Association.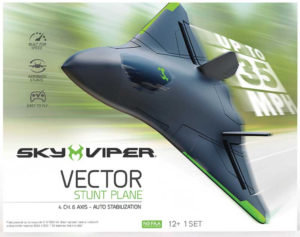 Engineered a top speed of a staggering 35mph, the Vector blazes through the air, leaving a trail of exhilaration in its wake. Feel the rush as you push the limits of speed and embark on heart-pounding missions that will make your pulse race.
Equipped with advanced position hold technology, the Vector Jet effortlessly hovers in mid-air, maintaining its position with remarkable precision. focus on executing daredevil stunts with ease.
With its exceptional power-to-weight ratio, the Vector Jet launches into action, effortlessly gliding across the sky. Perform smooth surface take-offs with confidence, as Vector Jet combines raw power with unparalleled agility for a truly mesmerizing flight.
You feel like you are in  control of the skies with the 600ft long-range remote, ensuring your drone remains within reach while you explore vast horizons. The hobby-grade control system offers unrivalled responsiveness, granting you the ability to manoeuvre Sky Viper Vector Jet with precision and finesse. Perform amazing loop and barrel roll stunts with a single press of a button!
What is more the Sky Viper Vector also has a Find My Plane Audio Tracer feature to ensure a swift and easy recovery if it flies out of the 600-foot range.
Sky Viper Vector Performance Stunt Jet is available from major retailers and Amazon.
For more information please visit :https://www.flairgp.co.uk/sky-viper-1/