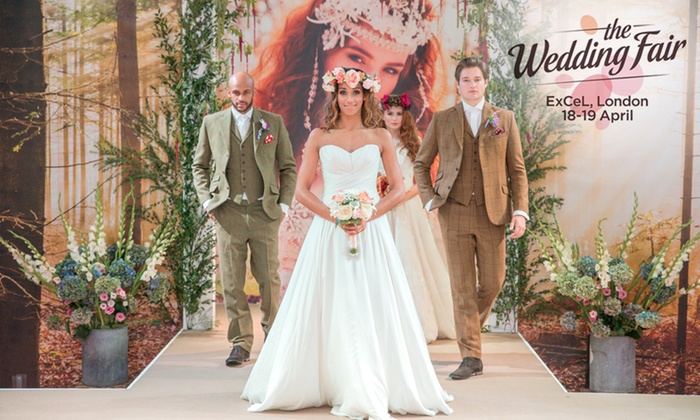 The wedding fair will take place during the third weekend of April at the ExCel London and is surely the place to be, both if you are planning your wedding and if you want to spend a good time with your bridalparty.
Indeed, this event promises you a funny, enriching and interactive day in a lively area, proposing a range of more than 140 exhibitors (from the cake makers to the jewelers) by going through main events during the whole day.
Main events:
This show will surely give you inspiration for your wedding dress as it presents the latest trends in this field, from the leading designers' models to the more classical one. You will also have the opportunity to admire huge panoply of mother of the bride, bridesmaid, groom and ushers collection without forgetting accessories such as floral bouquets, stunning hair, makeup styling and sparkling (as these themes are also tackled during the show).
And that's not all! Be aware that all the models of the show are available to try and even to buy in case you would succumb to your love-at-first-sight! Plus, many of the bridal wear suppliers will also be offering exclusive discounts for you to take advantage of the day!
The Creative Bride's Crafts Workshops
Share a moment with your loved ones learning how to personalize items for your big day in addition to benefit from the advice of Creative Brides' team members, an award winning wedding websites.
Learn the tricks to have a beautiful makeup and to be shinny during your big dates from one of the best Make Up artist of the Benefits Cosmetics company (the famous brand which launched Benetint, Hoola,…). We are here speaking about a quirky, glam and gorgeous area looking like a sweet shop for grown up girls!
You are searching for a band to play to your wedding or you simply want to see how a living band could beautify your wedding? Whatever you wonder, just go and have a look to the finest selection of musical entertainment exhibitors performing in live!
In addition to this already packed program, there are also plenty of other activities in lots of different stands such as workshops on flowers theme, cocktail crafting and for the greediest of you, some free testing sessions at the central "Proscesco bar".
Opening times: Saturday & Sunday 16-17 April /10am-5pm
Tips: Code discounts are frequently showed on the "Wedding fair" Facebook page.
Another wedding fair take place in Event City on the 24-25th September at Manchester.
Join now our Facebook page to be aware of the coming events, participate to competitions,… and fully Live the news! https://www.facebook.com/Appfabnews-755421747928344/?fref=ts