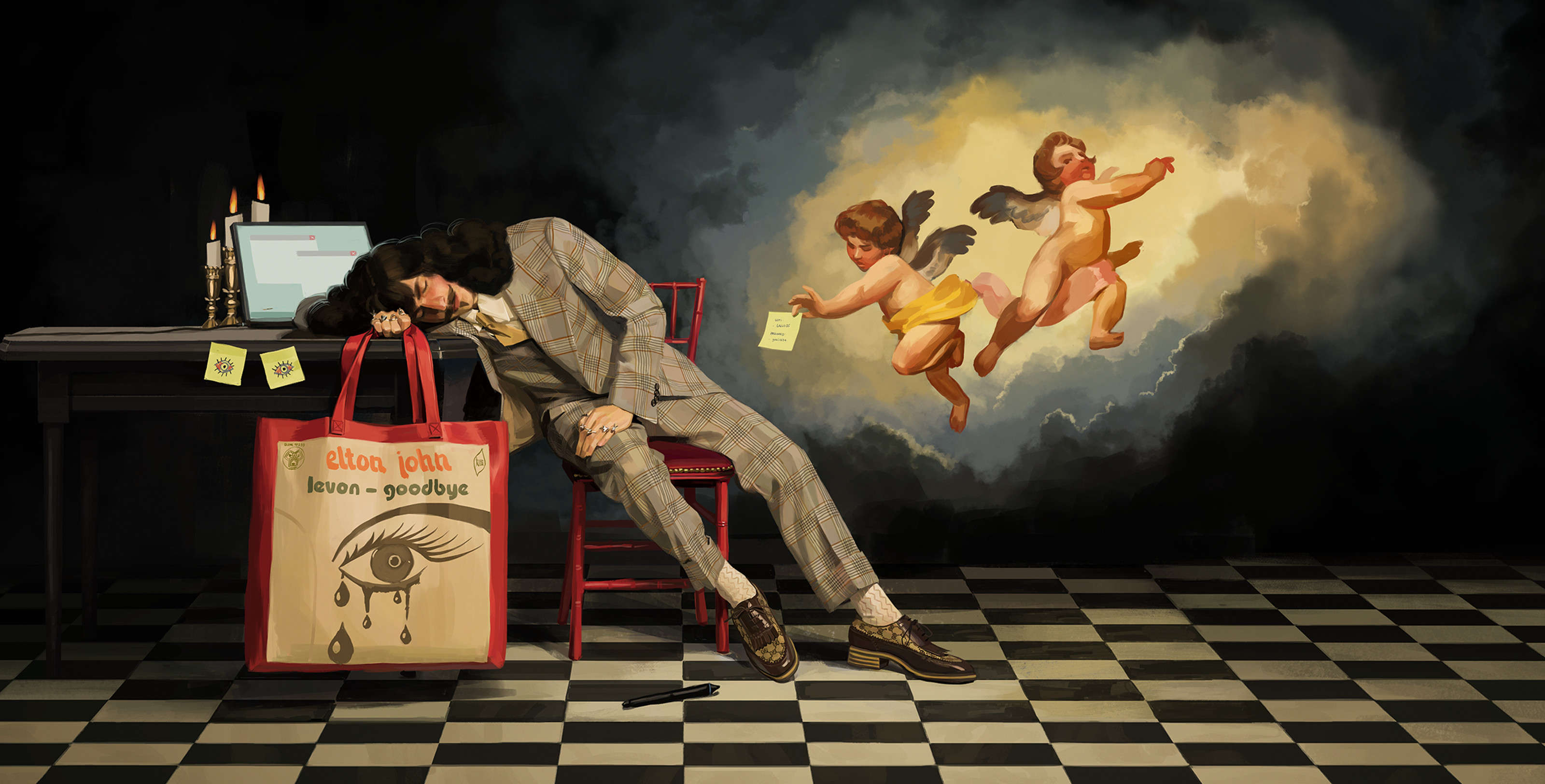 A voracious collector of beautiful things, the sartorial showman Sir Elton John is embarking on his Farewell Yellow Brick Road Tour, dressed by Gucci.
Speaking exclusively to Gucci.com, the showman talks about his style, from his outré 70s stage looks to the line-up Alessandro Michele created for his last ever tour.

How did your Farewell Yellow Brick Road Tour costume creative collaboration with Gucci and Alessandro Michele come about?
I'm a huge fan of the amazing work Alessandro Michele has been doing since he took the helm at Gucci. His bold mix of colour, exuberance and eclecticism gave fashion a massive kick up the backside. I love its celebration of individuality. That same spirit reminded me of the insane enthusiasm I had for fashion, particularly in the first 30 years of my career. I spotted a few knowing winks in Alessandro's collections to some of my past fashion moments. When we finally met, I was bowled over by his kindness and his passion for craftsmanship. We became fast friends, as we are both voracious collectors and love mixing antiquity with the contemporary. I've kept an archive of my stage costumes from the very beginning of my career and thought it would be fun to open up my little treasure chest with Alessandro and his design team. They took it from there.
What piece do you cherish the most from the line-up for the tour and why?
It's virtually impossible for me to single-out one particular item. They are all so beautiful and exquisitely crafted. I find it difficult to go onstage without putting on a costume that allows me to become a performer. The theatricality of the costume pieces Alessandro and Gucci have created for me are totally transformational and transportive.
Several looks from Gucci Spring Summer 18 collection were inspired by your stage looks from your own wardrobe archive, you've said you're not nostalgic—do those pieces represent something new recreated by the hands of Alessandro Michele?
When I finally saw the collection on the runway, I was blown away. It wasn't a literal re-tread of my past, but a cleverly refashioned and reimagined vision that fit so well in the Gucci world of today. It really put a big smile on my face! Opening up my costume archive and seeing how Alessandro has reinterpreted key looks for today's world has unearthed an exhilarating rush of emotions. I can't believe how sartorially crazy I was, particularly in the 70s! With fashion back then, I was like a big kid in a sweet shop. I couldn't get enough, and kept trying newer and crazier looks. I get the same rush of enthusiasm when I walk into a Gucci boutique today. It will definitely be a trip seeing the Gucci Elton John pieces when they start landing on boutique rails.
You've described yourself as a collector, what are some of the things you collect?
I've been collecting photography since the late 80s–particularly small scale, black and whites, dating back as far as 1917. I love being surrounded by it. Vinyl is another big passion–I only started collecting it again in the last few years, after selling my original collection in 1990 to raise money for the Elton John AIDS foundation. I love the tactile nature of it, the smell, the process of putting it on, and its superior sound! I try to pop into a record store wherever I am, and buy about five to six new albums on vinyl every week. I also have a big glass collection, which I adore. But I always buy for the beauty of the piece, not for its value.
What will you be collecting on your Farewell Yellow Brick Road Tour?
Memories! It's going to be quite an intense trip round the world, and the fact that it's my last ever tour will make the memories all the more powerful.
You celebrated individuality in the 70s, how is that stage different for performers today, is it easier for performers to express their individuality?
I feel so blessed to have been a songwriter and performer in the 70s. It was a decade with an unprecedented explosion of creativity in music, fashion and film making. There was inspiration everywhere. There was so much individuality, revolution, positivity and hope. I find it massively uplifting that today's generation are drawn to the same spirit in Alessandro's Gucci collections. I love how Alessandro celebrates the cult of the individual at Gucci. Both David and I love wearing his clothes but buy completely different pieces. His clothes allow us to choose the bits we want to express our individuality and our personality. Alessandro's vision for Gucci is a celebration of diversity in life! There is so much negativity and divisiveness in the world today. He presents a proposition for the world that is uplifting, positive and unifying. It celebrates people's desires to express themselves as truly unique individuals and to be accepted for that. I think that's one of the reasons why millennials find his fashion vision so inspiring. It's a fun and happy world that anyone can step into. It's inclusive yet individual.