You love their clothes, then their beauty, well now try their all-new, in-store pampering service, Duck & Dry Xpress. A permanent fixture placed next to the ever-growing beauty section in store. Duck & Dry Xpress has hatched at the Flagship Oxford Street East Primark store and in the new Birmingham city centre mega-store.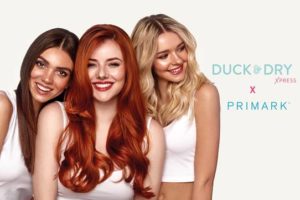 Duck & Dry Xpress first hatched in March 2019, in Primark's flagship store, Oxford Street East, London. Next on the list in April was Birmingham which opened its doors on the 11th April.The mega-store is a generous 160,000sq ft space and 3,000sq ft of that is dedicated to Duck & Dry Xpress and its services which has a mezzanine floor location, complimented by interiors featuring the Duck & Dry signature pastel shades. The large space is also equipped to cater for large groups and events.
Three beauty services are in operation in each store incorporating hair, nails and brows. Duck & Dry Xpress, like the salon's luxury London blow dry brand, Duck & Dry, offers Updos and Blow Drys to shoppers with a transparent price list and plenty of style choices.Duck & Pluck will delivers brow and eyelash services including threading and tinting and Duck & File takes care of your nails, creating the ultimate full scale pampering experience on the shop floor.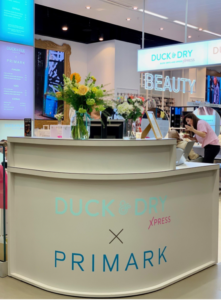 A first for Primark and an exciting new venture for the pioneering blowdry bar to create the ultimate shopping and beauty experience for consumers. Duck & Dry founder Yulia Rorstrom comments onthe new venture:
"We are so excited to be collaborating with Primark and found its vision to provide fast paced beauty services to the high street very inspiring. The Duck & Dry brand experience will enhance its vision with our know-how of express, quality beauty services, along with our vibrant, signature aesthetics, at high street prices".
About Duck & Dry: Duck & Dry is a luxury blow-dry bar salon that stands in four prestigious locations across London. Chelsea, Oxford Street, Mayfair and Spitalfields. A place for great hair and a great time. Encompassing the ultimate customer experience to provide beautiful blow-drys and updos in beautiful, bright spaces with unlimited feel-good vibes. Yulia Rorstrom (Duck & Dry Founder) opened the first flagship salon in 2014 and as well as three new locations since, has also developed a hair care product line, carefully created in Somerset, following the brand's values of simplicity and performance. In 2019, Duck & Dry will be catapulting their services to roll out Duck & Dry Xpress into Primark stores across the UK.
Website: https://www.duckanddry.com/xpress